Nursing Students Gain Hands-On Experience Assisting Overworked Vineland School District Nurses During the Pandemic
The partnership provides innovative experiential education opportunities to nursing students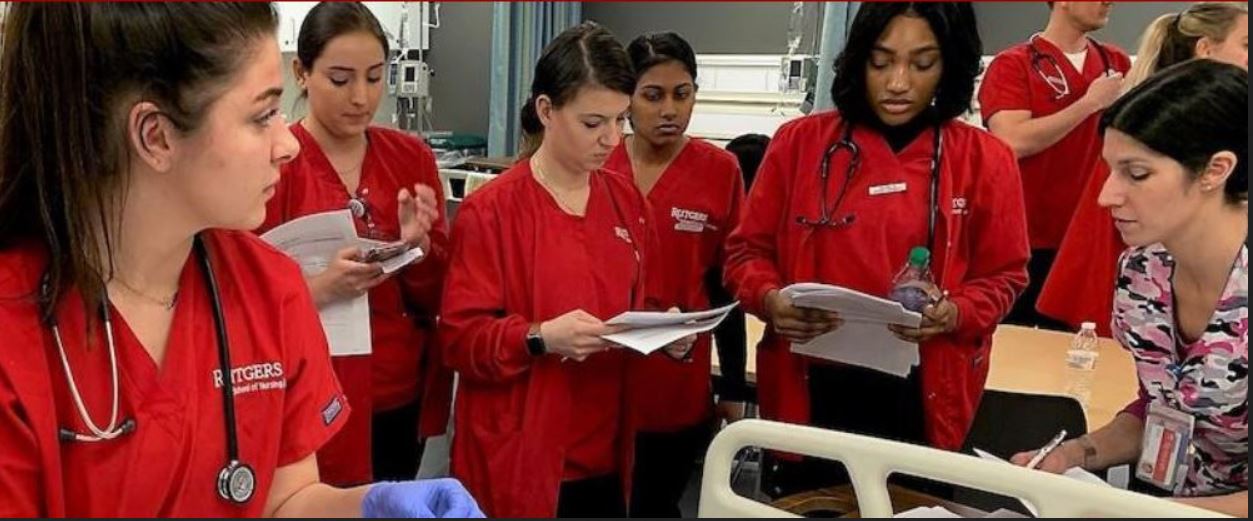 Jan. 25, 2022
By Jeanne Leong
In a mutually beneficial collaboration that allows nursing students to receive experiential instruction, Rutgers University‒Camden is partnering with overburdened school nurses in the Vineland School District, who often function as the main COVID-19 officers in their schools.
New Jersey's 2,500 school nurses play a vital role in keeping students safe and healthy and have faced increased burdens during the pandemic as they fight to keep communities safe. In addition to caring for students, school nurses have been a source of health and safety updates, informing students and families of the latest coronavirus updates and protocols
Robin Cogan, the clinical coordinator of the Rutgers‒Camden school nurse program, says school nurses are acting as the de facto health department during the pandemic. Cogan hosts a virtual support group for school nurses throughout the United States who are overwhelmed with additional responsibilities.
Beginning Jan. 25, under the supervision of Rutgers‒Camden nursing faculty, 152 nursing students will work alongside Vineland School District nurses while participating in a pediatric clinical rotation during the spring semester.
"Front-line direct care experiences are novel and a unique way to introduce students to population-based public health nursing," said Donna Nickitas, dean of the Rutgers School of Nursing‒Camden.
The nursing students will assist 14 Vineland public schools with COVID-19 contact tracing, health screenings, and educating young students on health promotion topics.
"Contact tracing is a time-consuming task and a huge burden on school nurses, who are also trying to juggle their daily demands, so our students will be available to help," said Margo Wallace, the Rutgers School of Nursing‒Camden director of clinical placement.
Rutgers‒Camden students will assist in contact tracing by gathering crucial information, such as when a patient began showing symptoms, and identifying close contacts in the classroom, on the school bus, in sports and during social activities. Of the more than 29,000 Cumberland County residents who have tested positive for COVID-19 since March 2020, more than 12,000 are Vineland residents – the highest in the county, according to county records.
"Contact tracing and COVID management has consumed the entire workday of school nurses," said Vineland School District Nursing Supervisor Josephine DeMareo. "Vineland students and families will benefit from the direct care and contact tracing that the nursing students provide."
DeMareo said the school district welcomes the partnership with Rutgers‒Camden and the nursing students' assistance with people who test positive for COVID-19. One of their key duties is determining how long COVID-positive individuals should isolate.
"School nurses are unsung heroes who play a vital role in the health and safety of children, especially during the pandemic," said Rutgers‒Camden Chancellor Antonio D. Tillis. "I'm proud that Rutgers‒Camden nursing students are working directly with, and contributing to, the well-being of children in the community."
The partnership with Vineland School District expands the School of Nursing–Camden's hands-on educational opportunities in traditional and nontraditional clinical settings, such as places of worship, food pantries and homeless shelters.