Excitement of Urban Living
Within the heart of a major metropolitan area, Rutgers University–Camden boasts the best of two vibrant cities: Camden and Philadelphia. Our urban location puts you within minutes of everything the region offers. It's all right here: the arts, history, sports, culture, and some of the best career-building internships and civic engagement options in the nation.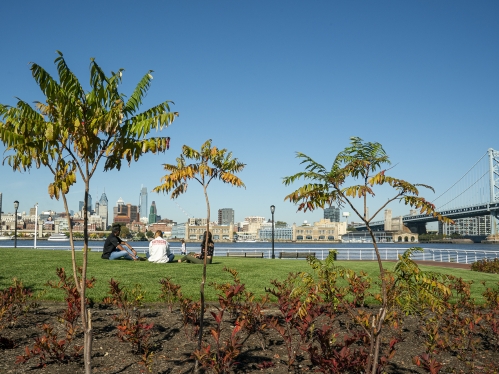 Opportunities All Around You
We're a world-class university, and part of what makes us great is our proximity to opportunity—in Camden, Philadelphia, and the greater Delaware Valley region. Discover the excitement and advantages of urban life at Rutgers–Camden.
Anchor Institution Helping to Lead the Way

Rutgers–Camden is an anchor institution in the city of Camden, and plays a leadership role in the revitalization of this historic city. Our campus is part of the vibrant University District and is near the bustling medical and government district, where you'll find Cooper University Hospital, Cooper Medical School, the Coriell Institute for Medical Research, a Ronald McDonald House, Camden City Hall, and a U.S. federal courthouse.

More than ever before, businesses and organizations are choosing Camden for their growth. Subaru of America, Holtec, and the Philadelphia 76ers are among the organizations that have chosen to move their headquarters to our city. The iconic Campbell's Soup Company has been based in Camden for more than 150 years.

Entertainment on the Waterfront

The Camden Waterfront, a short walk from campus, attracts three million visitors a year to sports, entertainment, and a growing arts scene. Here, you can:

See a concert at Freedom Mortgage Pavilion, an outdoor amphitheater that draws some of the biggest names in music.
Visit the Adventure Aquarium, ranked one of the best aquariums in the east by the Travel Channel.
Get ready for the Philadelphia 76ers, whose new practice arena is on the waterfront.
Catch one of the best, unobstructed views of the Philadelphia skyline around.

Giving Back to the Community

In local neighborhoods and throughout the region, you can make a difference through engaged civic learning courses and co-curricular activities. Our commitment to our host city and county gives you the chance to gain important skills while helping our community.

Our great location puts you at an advantage for career and internship opportunities in this major metro area. We're just across the Benjamin Franklin Bridge from Center City, Philadelphia's business and government hub.  In fact, Rutgers University–Camden is the university closest to the Liberty Bell!

A quick train ride on the PATCO Speedline takes you into Philadelphia within minutes for restaurants, museums, historical sites, music and theater performances, and professional sports.  And it's just as easy to walk across the bridge from our campus to enjoy the nightlife, restaurants, and museums—as well as to access to the multinational organizations—located in Philadelphia's Old City district.

Look to the southern New Jersey region to explore your career options, where several major corporations keep their headquarters and organizations large and small are growing.

Interested in diverse cultural and dining experiences? Check out our surrounding suburbs. Communities such as Collingswood, Riverton, and Haddonfield (just to name a few) also offer convenient train access to Rutgers–Camden, which opens even more opportunities for off-campus housing options, shopping, and trips to thriving downtowns.

Your opportunities to gain important skills and experience for your future are limitless across the region. With a prime location in the heart of the Delaware Valley, students are close to internship options and career opportunities in New York City and Washington, D.C., only 2 1/2 hours away. Recent Rutgers–Camden students have held internships at the White House and with the FBI and have conducted research in Philadelphia, Washington, and New York.
Have Fun In & Around Camden
Experience the best that the metropolitan region has to offer at Rutgers University–Camden. Nearby campus, explore entertainment and recreation options at the vibrant Camden Waterfront and in the historic Cooper Grant neighborhood. Just minutes away in Philadelphia, you'll enjoy museums, the arts, parks, restaurants, dining, and nightlife. In the South Jersey region, discover quaint downtowns with even more entertainment options.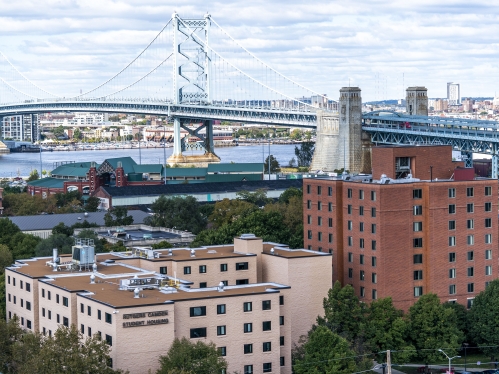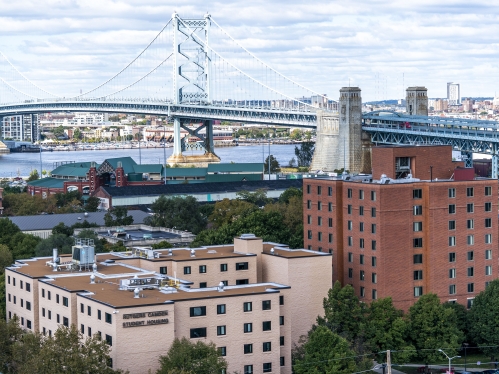 Take a Look Around
We boast the best of both worlds: a close-knit community and close proximity to two vibrant cities. There's so much to do and see, whether you're exploring the excitement of Camden and Philadelphia or our beautiful campus and state-of-the-art facilities.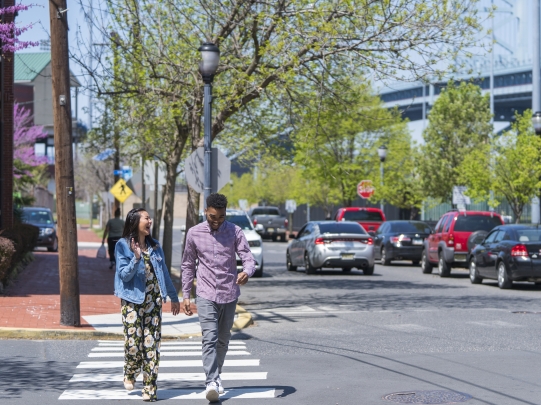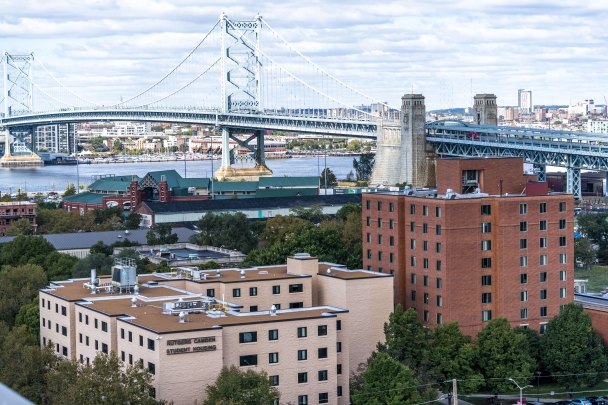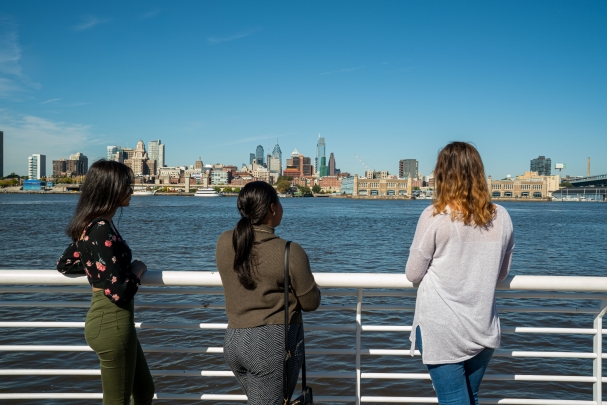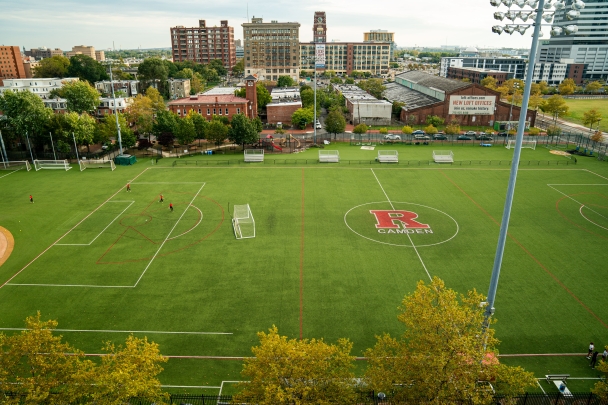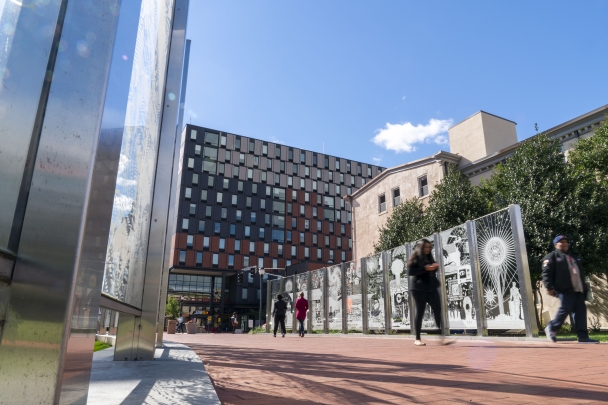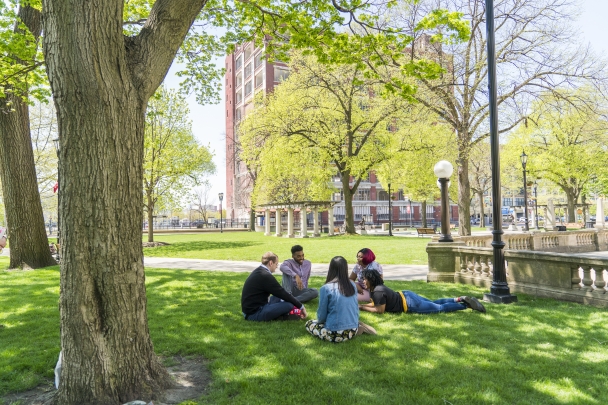 Discover the excitement and advantages of urban life at Rutgers–Camden.
We're just across the Benjamin Franklin Bridge from Center City, Philadelphia's business and government hub.
The Rutgers–Camden campus is a convenient train ride away from nightlife, restaurants and museums.
With over 100 clubs and organizations and 19 Division III sports teams, there are plenty of activities to enjoy on campus.
Rutgers–Camden is all about the arts. We host author readings, art exhibitions, musical concerts, film screenings, special conferences and theater performances on campus.
We provide a secure environment, where students, employees and visitors alike feel comfortable on and around our 40-acre campus.