A field of dreams five years in the making came to fruition today as the Camden Athletic Complex, located at Delaware Avenue and Penn Street on the Camden waterfront, was officially opened.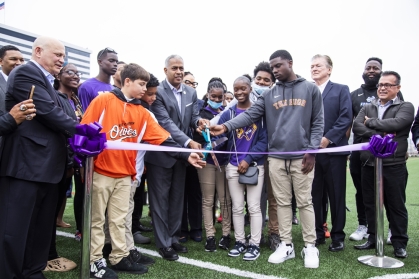 Rutgers University–Camden Chancellor Antonio D. Tillis, City of Camden Mayor Victor Carstarphen and New Jersey Assemblyman Bill Spearman (D-5) were among those who marked the historic day under "pitcher-perfect" skies with a ribbon-cutting ceremony. More than 200 people from the Rutgers–Camden and Camden communities gathered for the event.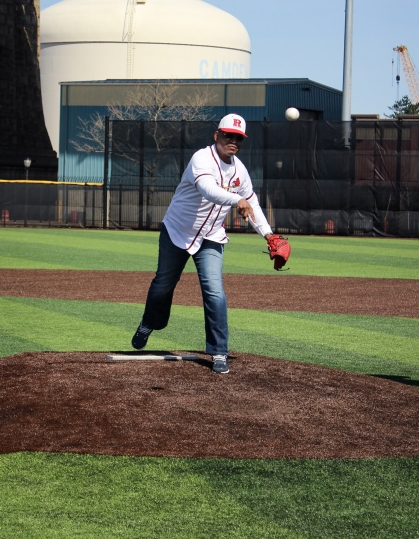 "Rutgers is proud to be a partner in helping to launch this county-owned and -operated facility," said Chancellor Tillis. "These playing fields will provide a home base for our NCAA and club sports. This complex also will provide the families of Camden and Camden County with opportunities to exercise, play, and build healthy communities."
In 2017, the Rutgers University Board of Governors approved the investment of $7.5 million in the redevelopment of the complex, located on the site of the former Campbell's Field in Camden. The multi-purpose athletic facility include fields for baseball, lacrosse, and track and field to be utilized by Rutgers University–Camden's NCAA Division III and club teams as well as by the larger Camden community. Camden County owns the property and will manage operations of the complex.
"I am excited to know that community teams will play on the same fields and run on the same track as our Scarlet Raptors," said Chancellor Tillis. "Everybody wins."
Jeff Dean, director of athletics and recreation services at Rutgers–Camden, noted what a tremendous asset the sports complex will be to the future of the university's teams. "Track and field has never had a home at Rutgers–Camden during my time here and baseball has played on the road the last several years," he said. "It is a fantastic development for these teams as well as our other sports to have the opportunity to practice and play on campus."