MOU Paves the Way for Enhanced Collaboration with Camden City School District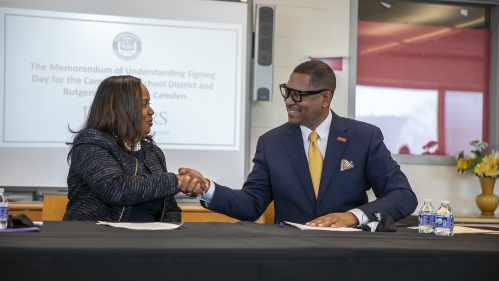 For K-12 students, the path from grade school to higher education can often be hard to visualize. Rutgers University in Camden and the Camden City School District (CCSD) have joined forces to ensure local students will have the support they need to successfully navigate that path. Members of the Camden community were on hand at the Dudley Family School on Wednesday, Feb 8. to witness the signing of a memorandum of understanding between the two institutions; the event marked the formal expansion and revitalization of a longstanding partnership.
With Rutgers–Camden and CCSD banners, T-shirts, and other regalia proudly on display, Chancellor Antonio D. Tillis and Superintendent Katrina T. McCombs celebrated the schools' joint efforts to offer transformative opportunities to students, teachers, and administrators across Camden.
"This agreement reaffirms Rutgers–Camden's longstanding commitment to partner with the City of Camden and prepare the next generation of college-bound students," said Chancellor Antonio D. Tillis. "By entering into this memorandum of understanding, we are pledging to work together to provide students what they need to access higher education opportunities. As we expand, we also elevate. Part of this program is to elevate the K-12 initiatives we are already engaged in."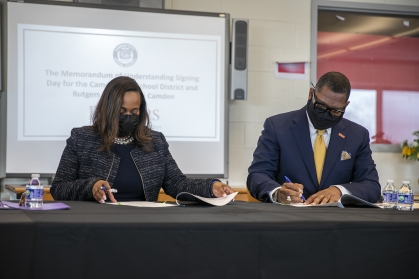 The memorandum cemented Rutgers–Camden and CCSD's agreement on key partnership goals, which include rigorous academic programming at the K-12 grade levels; collegiate pathways for underrepresented students; and professional development opportunities for schoolteachers, staff, and administrators. The agreement also reaffirmed the two parties' commitment to existing collaborations, including the IGNITE Afterschool Program.
Citing the words of Nelson Mandela, McCombs said, ""There can be no keener revelation of a society's soul than the way in which it treats its children." She said the memorandum of understanding signifies the goal of the Camden City School District and Rutgers–Camden to expand their already thriving partnership for the benefit of students.  "We already have a great partnership with Rutgers-Camden," she said. "But this document says that we are committing to work together in a way that will continue to move forward students' academic and social-emotional learning experiences."
In addition, Rutgers–Camden and the CCSD agreed to focus on several joint priorities, with diversity, equity, and inclusion (DEI) initiatives topping the list. Rutgers–Camden students will also receive increased volunteer opportunities at CCSD sites, and the creation of the new Summer Bridge Program will allow students entering the ninth grade to make the transition from middle school to high school with mentorship from and instruction specially designed by Rutgers–Camden faculty and students.
"Academic institutions have a responsibility to the communities they serve," Chancellor Tillis said. "This memorandum of understanding is another example of Rutgers–Camden honoring that responsibility."