Forward Thinker: Rutgers University–Camden Earns Prestigious Education Award Under Nyeema Watson's Leadership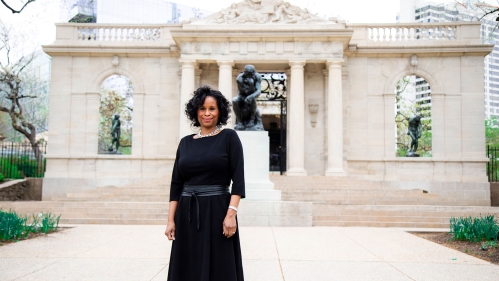 Watson, the vice chancellor for diversity, inclusion, and civic engagement, is at the helm of Rutgers–Camden's efforts to expand excellence in equity and education
Hundreds gathered yesterday for the star-studded Community Planning and Advocacy Council's Civic Leadership 2022 Awards ceremony, which recognized Rutgers University–Camden's unwavering commitment to civic engagement, helmed by Vice Chancellor for Diversity, Inclusion, and Civic Engagement Nyeema Watson. The gala was held to pay tribute to educators and their organizations for exemplary leadership and innovation in the South Jersey region and beyond.
Rutgers University–Camden Chancellor Antonio D. Tillis applauded Watson's dedication and efforts to build an inclusive campus community while connecting the resources of the university with communities in Camden and across southern New Jersey.
"Rutgers–Camden has provided educational access to Camden schoolchildren, financially supported the Camden community, and utilized campus facilities to bring community partners together," Chancellor Tillis said. "Rutgers–Camden students are not only civically engaged, but they are also expected to lead these efforts."
A Camden native, Watson noted that Rutgers–Camden strives to use its many resources in ways that benefit students, Camden residents, and community organizations alike. The university's approach to civic engagement, she said, empowers these stakeholders to transform the city of Camden and surrounding South Jersey communities.
"Rutgers–Camden is an anchor institution focused on how it can promote lasting community development in the city of Camden and the South Jersey region," Watson said.
Community organizations routinely rely on Rutgers–Camden to provide the capacity to expand their work in ways that would not otherwise be possible. Since its inception in 2011, the Rutgers–Camden Civic Scholars program has partnered with more than 40 Camden organizations, contributing to projects and initiatives ranging from volunteer recruitment, homeless outreach, youth enrichment, college access programs, and environmental justice efforts. Civic Scholars commit to performing 300 hours of community service over the course of an academic year, participating in various activities, completing internships, and taking hands-on service-learning courses.
"Our dedication has been nonstop; we've never fallen back from our commitment," Watson said. "Our initiatives aim to maximize student learning, strengthening families and their neighborhoods while supporting Rutgers–Camden students and faculty."
The Rutgers Future Scholars program has introduced many first-generation, low-income, and academically promising Camden middle school students to the prospect of a college education. More than 150 members of the program have gone on to graduate from college.
"We have provided a lifeline for families who needed safe, high-quality opportunities for kids in elementary school, but also for kids who want to transition to college," Watson said. "When people see the name 'Rutgers–Camden,' that commitment resonates."