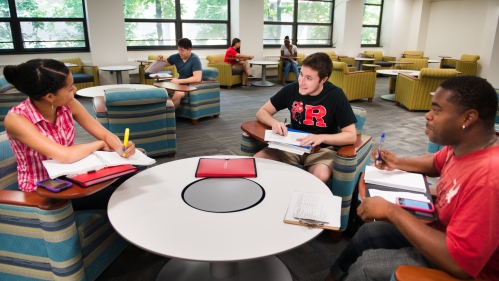 Rutgers University-Camden Diversity, Equity & Inclusion Council
Rutgers University–Camden is committed to achieving and advancing the principles of diversity and equity. 
Rutgers University-Camden Diversity, Equity & Inclusion (DEI) Council
To support the implementation of the campus wide diversity strategic planning process at Rutgers–Camden, a  steering committee was formed to engage students, faculty, staff, alumni, local residents, and other stakeholders. From these efforts, the campus devised a Diversity Strategic Plan to guide the efforts that advance campus wide inclusive excellence. Derived from the foundational work and history of the Committee for Institutional Equity and Diversity, the Rutgers University-Camden Diversity, Equity & Inclusion Council was formed to lead the charge on implementation, assessment, and innovation of our DEI efforts and campus belonging."
Mission
The mission of the Rutgers University-Camden Diversity, Equity and Inclusion Council is to facilitate, foster, and nurture the ongoing efforts of inclusive excellence within organizational policy and practice. The council will serve as an advocate and resource for the continuous progression of diversity, equity, inclusion, belonging, and accessibility within the campus and surrounding community.
Message from the Chancellor
"The intentional integration of diversity, equity and inclusion (DEI) at Rutgers University-Camden has been a longstanding institutional commitment. All throughout our beloved community, as an institution we embrace and value the differences that make up the mosaic of our inclusive culture and inform our campus pursuits of inclusive excellence. In the continuous effort to advance DEI in policy and practice, I have charged the Rutgers University-Camden Diversity, Equity and Inclusion Council, per a collaborative effort, to address issues of equity, identity, diversity, belonging, and social justice. I am confident in the expertise of the council and believe that a collaborative, collegial approach to materializing our DEI efforts will not only advance this critical work but also inform efforts through individual competency and benchmarked best practices."  
- Chancellor Antonio D. Tillis
Goal 1: Use data driven best practices to serve, recruit, and retain a campus community that represents the breadth of diversity in New Jersey, paying particular attention to access and barriers to success and feelings of belongingness for historically underrepresented faculty, staff and students.
Goal 2: Promote and center inclusive excellence in teaching, research and scholarship.
Goal 3: Strengthen Rutgers-Camden's impact as an anchor institution through deepening civic and community engagement, enhancing connections with residents and stakeholders within the city and across South Jersey and addressing the historical legacies of racism and injustice.
Goal 4: Advance a climate that fosters and ensures inclusive excellence and a commitment to diversity and equity through leadership development, robust support and accountability measures.

The DEI Council will be a standing, Chancellor directed committee consisting of faculty, staff and students developed to:
Oversee the implementation and progress of the campus' strategic plan with respect to its DEI initiatives:
Provide advice, recommendations, and insight on campus DEI efforts:
Promote campus DEI initiatives, trainings and professional development opportunities; and
Serve as liaison to campus community on DEI efforts.