Rutgers–Camden professor earns $2M National Science Foundation grant to advance artificial intelligence in biological research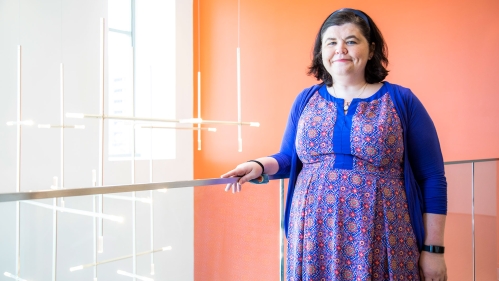 Rutgers University–Camden researchers in the diverging fields of biological information (DNA) and biological function (proteins) will soon connect through an innovative program that uses software engineering and artificial intelligence to promote collaboration among scientists. Codes4Life (C4L) is supported by a $2 million National Science Foundation Research Traineeship (NRT) grant awarded to Grace Brannigan, associate professor of physics and director of the Center for Computational and Integrative Biology (CCIB) at Rutgers–Camden.
"This extraordinary award is a testament to the outstanding work of Dr. Brannigan and the CCIB," said Rutgers–Camden Chancellor Antonio D. Tillis. "The Codes4Life program will link biological researchers like never before. Just as importantly, the program's novel STEM training model will prepare Rutgers-Camden graduate students to innovate and take on leadership roles in their fields."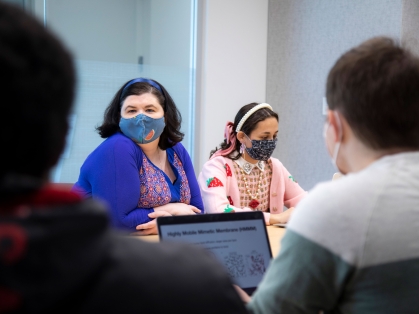 The C4L research team comprises scientists trained in computational genomics, evolutionary genomics, computational biophysics, and computational chemistry, who will collaborate on four projects focused on the interface between genetics and proteins. The co-principal investigators on the project are Anthony Geneva, an assistant professor of biology; Iman Dehzangi, an assistant professor of computer science; Andrey Grigoriev, a professor of biology; and Guillaume Lamoureux, an associate professor of chemistry. Brannigan explained that there is a traditional lack of communication between scientists in these two fields, worsened by the shortcomings of currently available software.
"Even though DNA and proteins are closely linked within cells, these two communities of scientists don't communicate very often," said Brannigan, who serves as principal investigator on the project. "They have both produced an exciting but overwhelming amount of vital data. Software is a powerful method for sharing that data and bridging disciplinary divides, but it must be developed to a standard that academic software rarely meets. Our diverse team will ensure development adheres to best practices, maintaining both the high level of precision and the user-friendly design that commonly used academic software lacks."
Brannigan noted that her recent paper, "Contiguously hydrophobic sequences are functionally significant throughout the human exome," published in the Proceedings of the National Academy of Sciences, is a prime example of an effective cross-disciplinary collaboration between scientists studying genomes and proteins. She recalled that she and her husband, a genomicist, began sharing research at home during the height of the pandemic lockdown.
"We began to talk about our work; in a way, we had to. After all, he was the colleague in my house," Brannigan said. "I recognized then that exciting collaborations were possible and knew the CCIB was the ideal center to further that engagement."
The research centers around the connection between gene mutations in protein structures and diseases. Brannigan explained that mutations tend to occur within the body's oily regions of proteins. This is typical of Mendelian diseases such as Alzheimer's, Parkinson's Disease, and epilepsy.
"It can be hard to figure out what components of our own DNA affect our traits, our health, and disease," said Brannigan. "It can be tough to figure out which differences in DNA are important."
Brannigan and her team sequenced data using a platform called Caliburn, formerly commissioned by the Rutgers Office of Advanced Research and Computing, to predict specific patterns in large strains of proteins in order to identify certain "suspects" of diseases. Their work was made possible by the Busch Biomedical Grant Program, designed to enhance biomedical research at Rutgers, which awarded the team a bridging grant in 2019 to fund their research. Read more about Brannigan's innovative research paper in Rutgers Research News.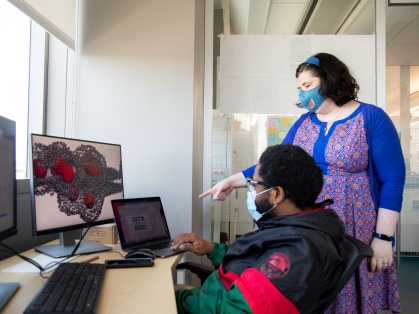 Benedetto Piccoli, vice chancellor for research at Rutgers–Camden, credits Brannigan and an all-star ensemble of researchers for creating a National Science Foundation program that advances both biological research and effective models for graduate education.
"There is a critical need to develop effective graduate STEM training models that are efficient, integrated with cutting-edge research, and able to be widely adopted," Piccoli said.
C4L will bring together a diverse group of 25 Ph.D. students specializing in software engineering and artificial intelligence, with an additional 15 Ph.D. students and 15 graduate students expected to join later on. "A lot of my work involves methodology development," explained Ezry St. Iago-McRae, a third-year Ph.D. student. "I am looking forward to expanding my computational toolbox."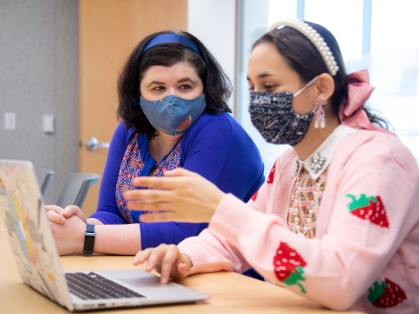 Students will also consider broad perspectives spanning modern developments in both genomics and protein structure and function. C4L will emphasize the development of strong communication skills to both scientific and non-expert audiences. The curriculum includes a mentorship program with industry professionals that will help students develop software that meets and exceeds industry standards. The Senator Walter Rand Institute for Public Affairs at Rutgers–Camden will also utilize its extensive experience assessing educational projects by evaluating the graduate training components of the program.
"The Codes4Life program would not be possible outside of the unique community at Rutgers–Camden and in the Center for Computational and Integrative Biology," said John Griffin, incoming dean of the Facutly of Arts and Sciences. "This collaborative approach is what makes our University special, and this award from the National Science Foundation proves we are making a difference in the future of research and technology."