Rutgers–Camden Center for the Arts "Portraits of Camden" exhibition captures city's strength and resilience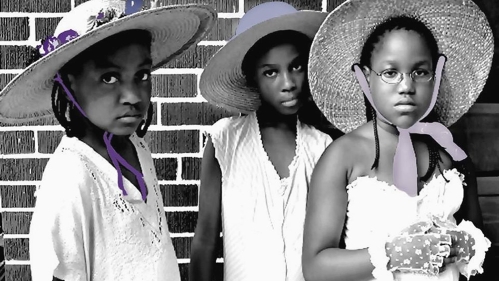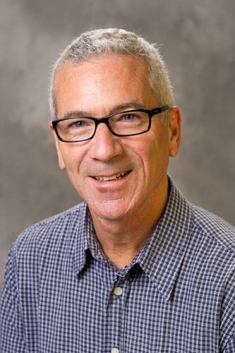 "Portraits of Camden" Now through Saturday, Dec. 10
Cyril Reade, Ph.D., director of the Rutgers–Camden Center for the Arts (RCCA), has unveiled the work of six artists with deep personal and professional ties to the city of Camden in the exhibition "Portraits of Camden." The art display runs until Dec. 10 in the Stedman Gallery on the Rutgers University–Camden campus.
The exhibition, which is supported by a $25,000 National Endowment for the Arts award, expresses the strength and resilience of Camden residents in unique ways using a wide variety of media – from drawing and painting to video and installation.
"The six artists created works that capture the spirit of Camden's people and the dynamic trajectory that is moving the city forward," Reade said. The RCCA exhibition in the latest in a series of art installation focused on the city of Camden, including series of exhibitions with a focus on Camden, following "Visions of Camden" (2013), "Sounds of Camden" (2014), and "Picturing Camden" (2017). 
Rutgers University–Camden Chancellor Antonio D. Tillis applauded the RCCA for continuing to focus on Camden's community and culture in its exhibitions.
"'Portraits of Camden' offers an authentic glimpse at the people who define our city's character and strength," Chancellor Tillis said. "Rutgers University–Camden invites guests from Camden and beyond to experience our host city through the eyes of these exceptional artists."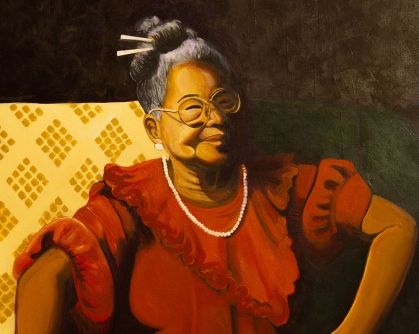 Born and raised in Camden, Kimberly Camp has created five original paintings for the exhibition in her signature style: colorful works that highlight the character of her subjects—members of her family or close friends—through their attire, poses, and activities. Simply put, Camp said that she renders images of middle-class African Americans who are doing "regular, everyday things." She adds, however, that race is incidental to her work.
"If you can look into someone's eyes—if you see how a mother looks at a child, how a brother looks at his sister, or an uncle plays with his nephew—it's conveying ideas about people. It's not about their external features."
Camp hopes that people will discover the Camden of her youth, one with a thriving middle class. It's a city ripe with opportunity and promise, where Puerto Rican migrants nurture a rich farming tradition. It's a city international in scope and flavor, where sailors and merchants live in harmony with immigrants from around the globe.
"It was a very different dynamic," said Camp, whose studio is in Collingswood. "People need to be reminded that there is a rich history in Camden, because few references to that history remain. I think it's key to the revitalization of the city."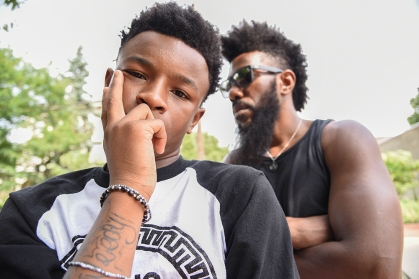 Erik James Montgomery, who has a studio in Camden, is exhibiting "street photography" that offers an unvarnished view of people being themselves captured by the camera's lens. According to Montgomery, the locations of the people photographed serve as backdrops that give context about who the people are and what they represent.
"For me, my subjects and their settings work in harmony to articulate a visual narrative," Montgomery said. "These narratives speak to the politics of living in urban spaces while maintaining a sense of personhood."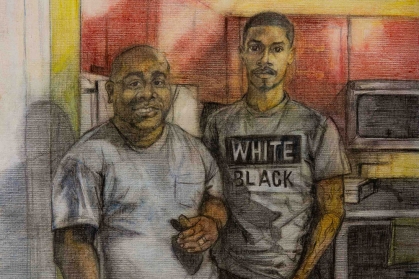 Born and raised in Camden, Donald T. Williams—one of Camp's former art students— presents a selection of images from a project in which he sketched 10,000 Camden residents for 10 minutes each. Noreen Scott-Garrity, RCCA associate director for education, noted that Williams' images convey a deep understanding of individuals and society that makes them a perfect fit for "Portraits of Camden."
"His quick, lively sketches of Camden residents, both young and old, effectively capture the personality and essence of each individual," said Scott-Garrity, who looks forward to presenting the exhibition to Camden's K-12 schoolchildren via the RCCA's free museum education program.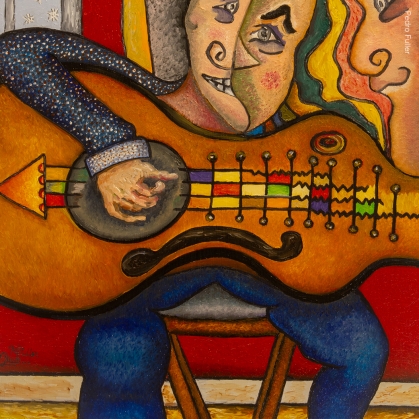 Rounding out the exhibition are artists just as unique in their diverse viewpoints, working methods, and connections to the city. Born and raised in Camden, Beverly Collins-Robert has created intimate black-and-white contemporary portraits of PATCO trains on their journeys to Philadelphia and back. Pedro Fuller, a native of Nicaragua who now lives and works in Camden, has created colorful and dynamic paintings that translate lived experience through emotion and the subconscious vocabulary of surrealism. Rafael Miranda Mattei, a native of Puerto Rico who now works in Camden, has created a multimedia installation from physical imprints of Camden streets.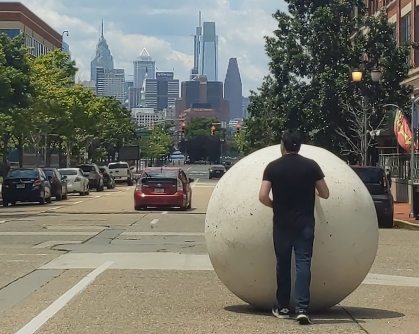 What: "Portraits of Camden" art exhibition
Where: The Stedman Gallery at Rutgers University–Camden
             314 Linden Street
            Camden, N.J. 08102
When: Now through Saturday, Dec. 10
            Monday-Friday 10 a.m. to 4 p.m.
            Saturday noon to 4 p.m.
Who: Free and open to the public