New Fellowship Program Gives Rutgers–Camden Nursing Students a Head Start on Research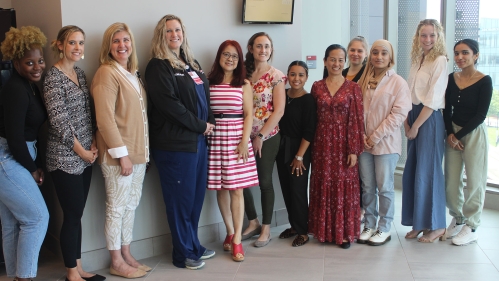 Undergraduate nursing students at Rutgers–Camden have a new opportunity to build hands-on research experience, thanks to a new fellowship at the School of Nursing–Camden. Led by Mei Fu, associate dean of nursing research, the six-week pilot program exposes students to research under the guidance of a faculty member, who provides training, advice, and mentorship.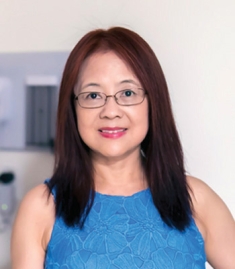 When Fu joined the School of Nursing in 2021, she made it her mission to promote a culture of research. Through the undergraduate nursing research fellowship, she hopes to expand students' educational and career opportunities while equipping them with tools to improve patient care.
"We need to give students the best mentorship so we can nurture the next generation of nurse scientists," Fu said.
Exploring the impact of family presence on medical rounds
Rising senior Skyla Mateo was assigned to work with associate professor Brigitte Cyprus, who is investigating the positive and negative impacts of involving intensive care unit (ICU) patients' families in "rounds," where the medical team visits each inpatient as a group to review his or her status and care plan. Family presence on rounds is advocated by professional organizations but remains one of the least studied aspects of family-centered care in the ICU, according to Cyprus.
Mateo and three other fellows reviewed existing literature and interviews with patients and family members—including adult and pediatric patients in critical and noncritical settings—to identify common themes. Their takeaways acknowledged positive aspects of family-centered rounds, such as better health outcomes (due to increased information about the patient's health history) and stress relief for the patient as well as possible consequences, such as emotional decision-making.
Mateo said the experience inspired a shift in the trajectory of her career.
"I love the process of research. Every single day I'm learning something new and refining my skills," she said. "Being in this fellowship has opened my eyes to another realm of nursing that I hadn't considered before. I'm thinking about getting my Ph.D. after I finish my undergraduate program."
George Gandour, a rising junior who describes himself as shy, said the fellowship helped him learn to work collaboratively and sharpen his public speaking skills. As a high schooler, he spent six months at the Children's Hospital of Philadelphia recovering from a lung transplant. This experience inspired him to pursue nursing and help other adolescent transplant patients.
"I usually prefer working alone and sometimes hold myself back in groups, since I was afraid I'd come across too nerdy," Gandour said. "Working with students who are just as passionate about research as I am made me feel very comfortable and helped me realize that there's no such thing as 'too nerdy.'"
Gandour looks forward to applying the new skills he acquired to his eventual career in organ transplant research. After graduating, he plans to pursue his Ph.D.
Improving the nurse residency experience at Cooper University Hospital
Manpreet Rayjma, a rising sophomore, worked with Fu to study the efficacy of the Vizient/American Association of Colleges of Nursing Residency Program at Cooper University Hospital. Since its establishment in 2000, the program has garnered participation from more than 100,000 residents across the country. As hospitals nationwide continue to struggle to hire and retain nurses, Fu hopes this research will contribute to stronger, more empowered first-year nurses and higher retention rates.
Rayjma and her classmates pored over surveys collected from first-year nurses at Cooper University Hospital and identified major themes—such as organizational climate, preceptorship experience, and support—that influenced their overall satisfaction with the program. Their research culminated in a presentation delivered to School of Nursing deans and education coordinators at Cooper University Hospital, where they shared their findings and offered suggestions for building confidence and competence in the next cohort of nurse residents.
Rayima said it has been eye-opening to work with data for the first time and appreciated the opportunity to build professional skills.  
"I learned how to be able to present without looking at a screen, and how to articulate my thoughts," Rayima said. "They taught us how to communicate with each other as well; sometimes we weren't all thinking the same thing, so we'd add our own thoughts to the findings. Dr. Fu was always interested in hearing everyone's opinions and thought processes."
Looking ahead
Although the fellowship ended in July, six of the seven original fellows have elected to continue working with Fu on new research assignments. They are assisting Fu with two studies—one investigating breast cancer screening disparities among Black women and another exploring cumulative health outcomes exacerbated by climate change-driven environmental stressors in Camden.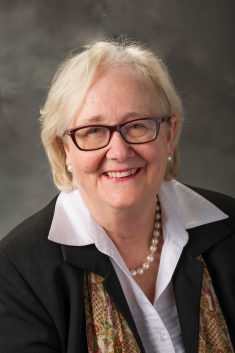 "Setting students up for new opportunities, undergraduates working with faculty has long been a distinguishing characteristic of Rutgers–Camden," said Marie O'Toole, interim dean of the School of Nursing. "The zest for research was palpable within the group. They are exploring graduate study and will have advanced critical thinking skills that will distinguish them in the clinical area."
O'Toole is excited by the early interest in the program and hopes to be able to accept more applications next year.
"The real-world situations our students were able to participate in were not only incredible learning experiences, but they also provided important support for the research needs of our partners," O'Toole said. "I am incredibly excited for this program to continue."
Click here to learn how you can help grow this essential program in 2023.