School of Nursing Provides Physicals at Camden High, Promoting Sports Participation and Potentially Saving Lives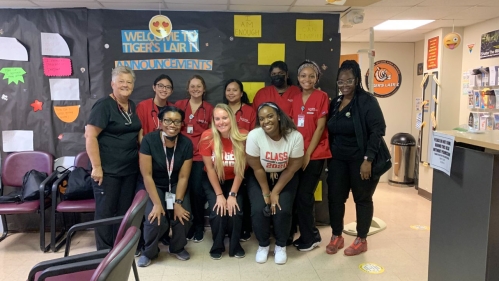 The start of the school year was just days away, and more than 150 Camden City School District student-athletes were prepared to be sidelined for the fall season. New Jersey law requires all student-athletes to obtain physical exams before participating in school sports. In the Camden City School District (CCSD), where 100 percent of the student body qualifies for free or reduced-price lunch, the out-of-pocket costs of a physical exam proved burdensome. Led by Professor Katherine Prihoda, the School of Nursing–Camden stepped in to provide physicals that not only cleared the students to participate in sports, but also had the potential to detect life-changing medical conditions.
"COVID-19 has disrupted primary care dramatically. Parents are struggling to get their kids in for appointments," Prihoda said, "Insurance only covers one physical per year, and you need a specific sports physical to participate interscholastically. Even if parents opt for an urgent care clinic, they have to pay, which can be a barrier. A lot of parents have jobs in the service industry that make it difficult to take time off from work."
When Renee Wickersty, supervisor of health services for CCSD, contacted Prihoda in search of volunteers to conduct the physicals, the School of Nursing–Camden enthusiastically stepped up to the plate.
"The school nurses are ecstatic that we're doing this," Prihoda said. "Typically, they spend hours tracking down students and parents to get their physical forms. Instead, we're coming to the students directly and answering their needs."
Over the course of two weeks, Prihoda and a group of nursing students provided nearly 150 free physicals to high schoolers and a handful of younger students who needed standard entrance exams. Aside from a medical history form and permission slip, no documentation was required, and no student was turned away. On their longest day, Prihoda and the Rutgers–Camden students completed 67 consecutive physicals.
"Once the word got out, people were just coming out of the woodwork," Prihoda said. "One father had three kids that came in for physicals. He said, 'I would have had to take a day off work without pay to get my children in for physicals during the week. I can't thank you enough.'"
Physical requirements have long been a challenge for under-resourced districts, but the pandemic—during which many routine medical services fell by the wayside—only heightened the problem. Prihoda said that in Camden and other cities that already struggled with lack of access to health care, it is likely that many residents have not seen a doctor in person for two years or more.
"Many school nurses got behind on screenings that are required by the state because they were bombarded by COVID-19 tracing and testing demands," she said. "Even in the practice I work in, patients didn't want to come in and be around someone else who could potentially have COVID-19. Telemedicine has some advantages, but you can't get the same assessment through phone or video."
The sports exams covered routine screenings, like height and weight, blood pressure, and heart rate. The exams also looked for any conditions that might make playing a competitive sport dangerous for the patient. Students were assessed for concussions, tested for heart conditions, and underwent muscular-skeletal exams. Prihoda and the nursing students also advised patients on lifestyle, exercise, and dietary changes that could help enhance their health and performance as athletes.
Beyond the physical benefits, said William Hickson, athletic director at CCSD, sports participation is linked to a wide range of social and mental benefits, like higher school achievement, lower dropout rates, and improved leadership skills. In districts like CCSD, sports serve as an opportunity equalizer that creates new avenues for students to obtain scholarships and pursue higher education.
"Many of our athletes go on to play at the university level, supported by an athletic scholarship.  For our students, this is more than an afterschool activity; it's an open door to a more successful, fulfilling life," Hickson said.
Just a few weeks of lost practice and playing time can have serious consequences for student-athletes, whose opportunities often come when recruiters see them perform in person or evaluate their season statistics. Moreover, bench time can also lead to more injuries among athletes who over-exert themselves after a long break.  
"The effects of missing even just a month or so of practice can be cumulative and irreversible," Hickson said. "It seems like a small thing, but getting physical paperwork in on time can make or break a successful college career."
Prihoda said the exams were a win-win partnership, providing doctorate of nursing practice students and undergraduate students the opportunity to test their clinical skills in a real community care setting. Marissa Carpen, an undergraduate nursing student, said the experience gave her confidence in interacting with patients, assessing paperwork, and taking vitals. It also affirmed her passion for serving those in need.
"Through this community outreach, we helped students who may not have been able to afford physicals to take part in the sports they love," Carpen said. "That alone is enough to fuel my passion to become a nurse; I want to ensure quality care for those in need."
On September 14, Prihoda and the Rutgers–Camden cohort will report to Thomas H. Dudley Family School to deliver the next round of physicals. She plans to continue this program for the duration of the school year. Hickson thanked Prihoda and the rest of the School of Nursing team for their extraordinary care and professionalism.
"This effort is a testament to the leadership of Dr. Prihoda and Rutgers–Camden," Hickson said. "I greatly appreciate Dr. Prihoda and the nursing students for helping our student-athletes. There aren't enough superlatives to describe the team."