Over 400 Rutgers University–Camden students, faculty, and staff gathered at the Athletic and Fitness Center yesterday as Chancellor Antonio D. Tillis led the university in observing its Inaugural Fall Convocation. Community members flocked to the "Welcome Home" ceremony and celebration, ushering in a tradition that Chancellor Tillis introduced to the Rutgers–Camden campus this year. Upbeat musical performances from the Convocation house band set the tone for an inspirational afternoon that recognized the new beginnings and endless possibilities in store for the 2022-23 academic year.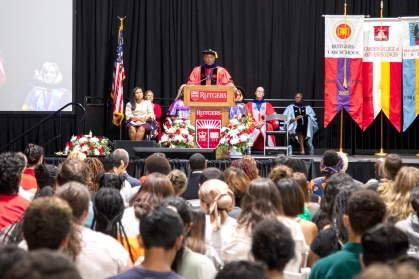 Dressed in academic regalia, Chancellor Tillis was joined in a procession by Interim Provost Donna Nickitas, Faculty of Arts and Sciences Dean John Griffin, Rutgers Law School Co-Dean Kimberly Mutcherson, School of Business–Camden Dean Monica Adya, School of Nursing–Camden Interim Dean Marie O'Toole. Chancellor Tillis opened his address with a spirited welcome home to new students and a welcome back to returning students.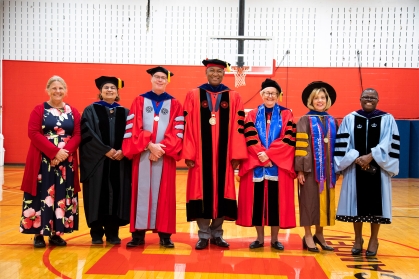 "I sincerely hope that, by the end of your journey at Rutgers–Camden, whether you walk across the Commencement stage with a bachelor's degree, master's degree, or a Ph.D., you will always be proud to call Rutgers–Camden home," Chancellor Tillis said to the audience. "Our beloved community is a place where you will always belong—no matter where you have been in life or where you plan to go."
The crowd cheered after Chancellor Tillis urged new students to "go to a Scarlet Raptors basketball, soccer, or baseball game and enjoy a hot dog as you watch us win." He also gave a special welcome to Rutgers–Camden Trustee Anthony Covington.
A diverse array of student speakers and performers graced the Convocation stage, their talent and high energy creating a welcome air of excitement in the audience. After JaRell Johnson, a senior majoring in musical theater, opened the ceremony with "The Star-Spangled Banner," the Rutgers–Camden chapter of Alpha Kappa Alpha Sorority Incorporated kicked off the ceremony's slate of entertainment with a "step and stroll" dance performance.
Later in the ceremony, Jochebed Peace Airede, a junior majoring in English, stirred the crowd with the story of her arrival from Nigeria as an international student in August 2021.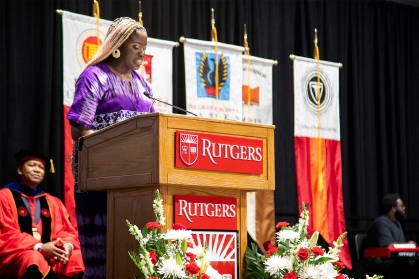 "I will always remember that Rutgers–Camden gave me a chance when few other universities had," Airede said. "I was embraced by on-campus organizations, met fellow international students on my floor, and made friends through my various classes. Through these networks, I found my chosen family."
Under the direction of Dionne Fields, an applied instructor of vocal performance in the Camden College of Arts and Sciences and a Rutgers–Camden alumna, the Rutgers–Camden Gospel Choir sang soulful renditions of traditional spiritual music.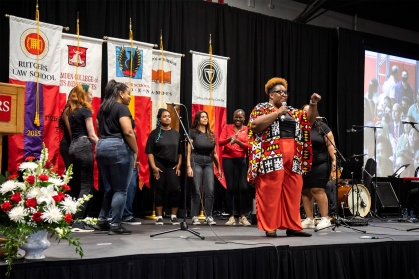 Jamille Nagtalon-Ramos, Ed.D., associate professor of nursing, delivered the faculty address, in which she recounted persevering through the death of her father as a first-generation Filipina-American undergraduate student. Cristian De Los Santos, a junior in the School of Business–Camden, led the audience in reciting the "Raptor Call," a new rallying cry written especially for Convocation that spotlights the greatest strengths of the Rutgers–Camden community, including authenticity, passion, and originality.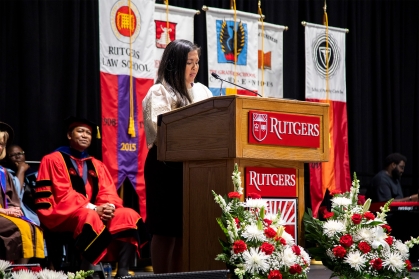 A special guest performance concluded the ceremony, as the Philadelphia 76ers' Stixers Drumline led attendees out of the gymnasium and onto the Campus Quad to enjoy outdoor festivities featuring various cuisines from Camden purveyors, a DJ, photo opportunities, and prizes.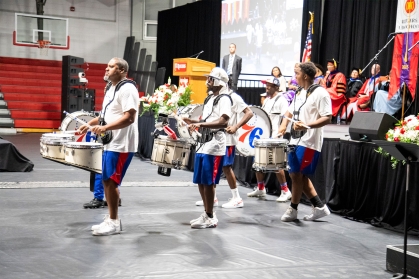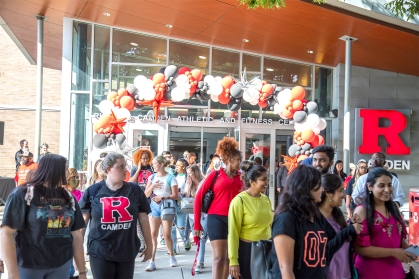 "I applaud everyone who collaborated to make our Inaugural Fall Convocation such an incredible success," Chancellor Tillis said. "Both the ceremony and the celebration brought forth our beloved community's talent, eloquence, and welcoming spirit. I thank all who attended; you are already inspiring us to build upon this tradition next year!"