Rutgers‒Camden Tackles Nursing Shortage
Graduate education programs focus on understaffed nursing specialties
Nurse staffing has been a longstanding challenge for many medical facilities due to high retirement rates and increasing numbers of patients who need help managing chronic disease. Two programs at the Rutgers School of Nursing‒Camden are helping to alleviate nursing shortages by preparing their students to fill high-demand positions in primary care, geriatric care and chronic-disease management. The Wound, Ostomy and Continence Nursing Education Program (WOCNEP) and the Doctor of Nursing Practice (DNP) equip the next generation of nurses to provide exceptional care in key areas of need.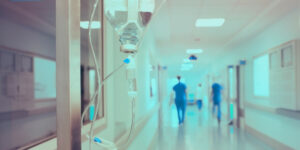 "Rutgers University‒Camden strives to improve health in the community and nationwide by training highly competent nurses who can care for those with challenging medical conditions," says Rutgers–Camden Chancellor Antonio D. Tillis.
WOCNEP Program
The 13-credit Wound, Ostomy and Continence Nursing Education Program prepares nurses to provide acute and rehabilitative care in a variety of settings, including in-patient, outpatient, long-term care and home health care.
"Often related to the aging of the American population, rates for chronic diseases such as diabetes, peripheral arterial disease, stroke, colorectal cancer and incontinence are rising," said Janice Beitz, a professor of nursing and director of the program.
As the only graduate-level tri-specialty program in the nation, WOCNEP recently received re-accreditation for seven years by the Wound, Ostomy and Continence Nurses Society. WOCNEP students come from all around the United States, including Louisiana, Arizona, California and the Delaware Valley.
"Our program's faculty of experienced nurses provide a solid foundation for the next generation of nurses to care for patients," said Kevin Emmons, clinical associate professor of nursing. "It is rare to have so many wound, ostomy and continence practitioners with this level of knowledge in one institution."
Adam Boroughs, who enrolled in the WOCNEP certificate program after 25 years as an emergency department and trauma surgical intensive care nurse, credits Rutgers‒Camden for his success in transitioning to wound, ostomy and continence care. Immediately after completing the certificate program at Rutgers‒Camden in 2018, he was hired at the Children's Hospital of Philadelphia, where he is now a clinical nurse coordinator of the wound ostomy program.
"My training at Rutgers‒Camden built a foundation in critical thinking as it relates to patients with wound, ostomy and continence issues, providing the framework that enabled me to meet my patients' complex needs," said Boroughs, a Logan Township resident. "The program prepared me for my work on immobility-related pressure injuries in conjoined twins, taking care of a child with wounds from a car accident and helping an intellectually disabled teenager with Crohn's disease navigate life with a colostomy."
DNP Program
The Rutgers School of Nursing–Camden DNP program prepares nurses to become leaders in health care, serve vulnerable populations and advocate for health policy reforms.
"The demands of the nation's complex health care environment require a higher level of preparation for leaders. They must have the ability to design and evaluate care with the highest level of scientific knowledge and practice expertise to assure quality patient outcomes," said Cynthia Ayres, associate dean of graduate programs and advanced nursing practice.
DNP students conduct research into methods of improving patient care and choose from plans of study such as adult gerontology, family nursing and a post-master's option for nurse practitioners. Offered since 2014, the DNP program at the Rutgers School of Nursing–Camden was re-accredited this fall for ten years by the Commission on Collegiate Nursing Education.
The flexible WOCNEP and DNP programs are available part-time and full-time with a blend of online and in-person classes.