Rutgers–Camden Launches Certificate Program to Boost Nursing Workforce Amid National Crisis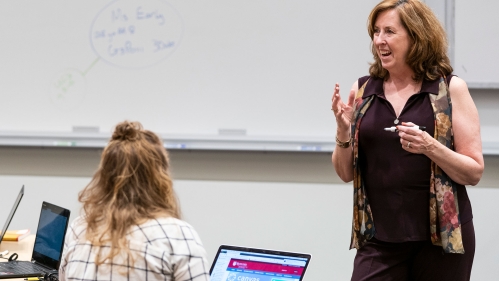 The Rutgers School of Nursing–Camden will address the national shortage of qualified nurse educators with the launch of a new certificate program next month. Applying the latest methodologies and evidence-based practices, the Post-Master's Nurse Educator Certificate Program will provide nurses who hold advanced degrees the knowledge and skills needed to educate nursing students in the classroom, in clinical settings, and online.
Faculty shortages at nursing schools across the United States are limiting student capacity at a time when the demand for registered nurses continues to grow. According to the American Association of Colleges of Nursing, nearly 92,000 qualified applications were turned away from nursing programs in 2021 due to insufficient capacity. Cynthia Ayres, associate dean of graduate and professional programs and associate professor at the School of Nursing–Camden, said the program will help fill these faculty roles by creating an accessible, affordable pathway to nursing education.
"Due to the lack of nurse educators, qualified students are denied admission to nursing schools nationwide," Ayres said. "This certificate program will provide clinical experts with the requisite skills and knowledge to transition into the role of nurse educator and ultimately increase the number of bedside nurses available to work in today's complex healthcare system."
To graduate, students must complete three online theory courses and a 60-hour teaching practicum. Courses will cover topics including teaching, curriculum development, technology, and evaluation.
To be eligible for the program, applicants must be licensed as registered nurses and hold master's or doctorate degrees. Students can complete the program in either two or four semesters, allowing them the flexibility to expand their skill sets or make career change while juggling work, family, or other commitments.
Upon completion of the program, participants will meet the requirements to sit for the NLN Certified Nurse Educator exam and be prepared to work as clinical or academic educators in both traditional and nontraditional nursing-education settings.
Rutgers–Camden Chancellor Antonio D. Tillis said this development reflects Rutgers–Camden's mission to infuse the greater Camden area with exceptional nurses.
"The demands of today's health care environment require an unprecedented level of preparation for future educators and nurses," Tillis said. "In equipping the next generation of nurse educators with the latest educational theory and best practices, we can do our part in shaping a workforce best prepared to meet the needs of its patients."
More information is available here.