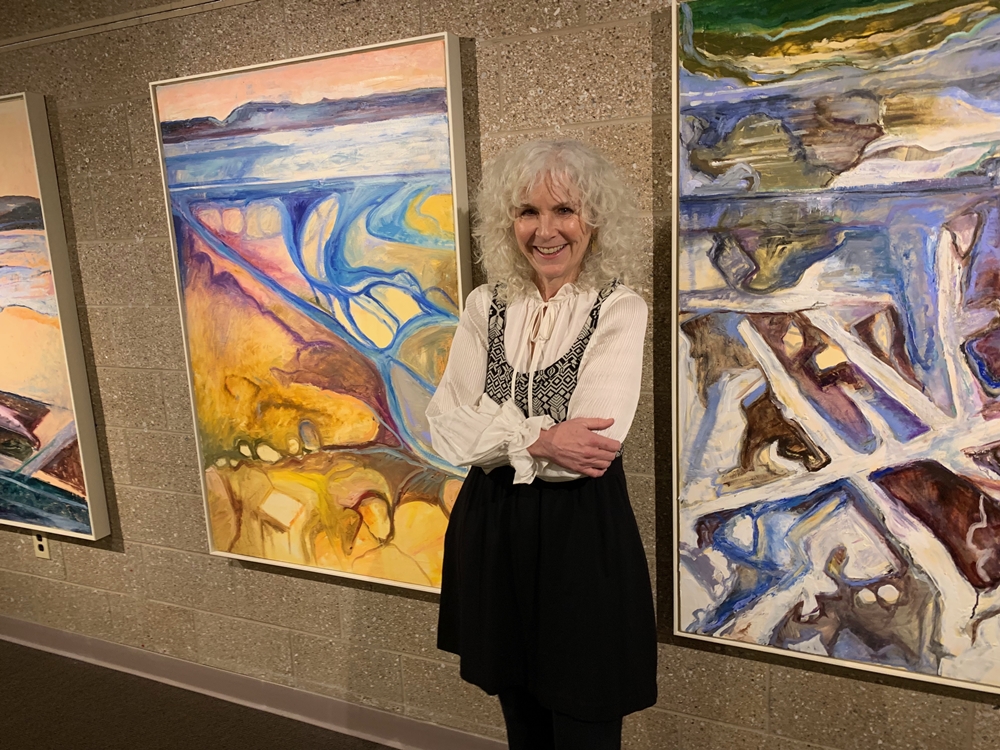 Stedman Gallery exhibition celebrates works, lives and careers of eight women painters
As part of its ongoing Women's History Month celebration, Rutgers University–Camden pays homage to the passage of time, growth and individual journeys with the Rutgers–Camden Center for the Arts exhibition, "Passages: 8 Women Painters."
The exhibition, which is free of charge and open to the public, will run through Friday, April 8 in the Stedman Gallery. Hours are Monday to Saturday, 10 a.m. to 4 p.m.
"'Passages' is personal to me as the connector, but it's also universal," explained curator and participating artist Noreen Scott Garrity, associate director of education for the Rutgers–Camden Center for the Arts. "The exhibition artworks evoke origins, childhood memories, a sense of place and the phases of a woman's life."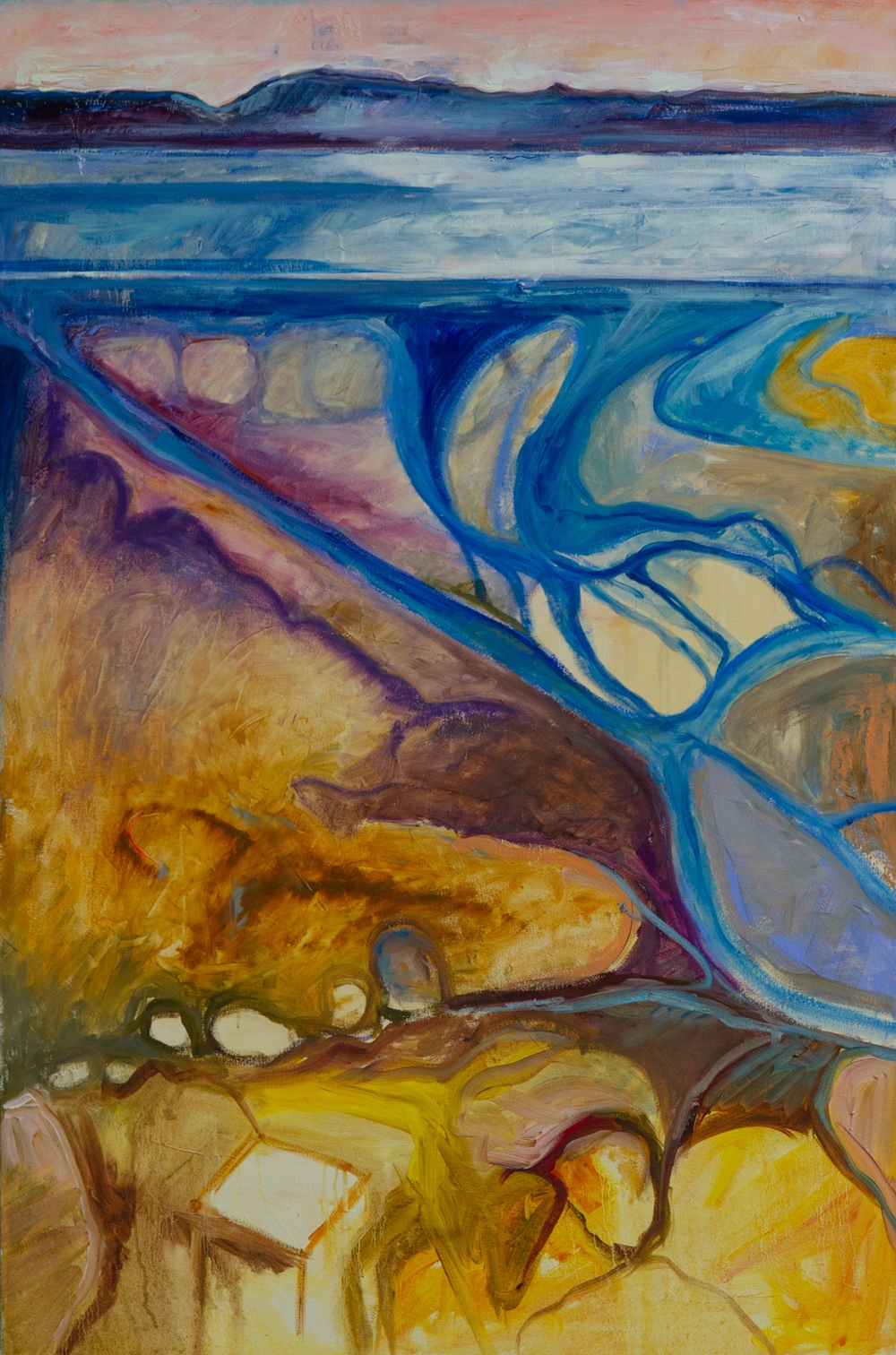 Scott Garrity explained that the exhibition – initially planned with the working title "Art School Girls of the 80s" – was organized to include painters with whom she had attended art school at the University of Delaware, where she earned her BFA in 1986, and the School of the Art Institute of Chicago, where she earned her MFA in 1988. She later arrived at Rutgers University–Camden in 1990. After reconnecting with her fellow artists, she said, a more comprehensive title emerged, one that encompassed multiple layers of meaning in their lives. She pondered what happens to artists more than 30 years after formal art school training, how a professional career impacts artistic practice, and the affinities among this grouping of artists who shared beginnings and faculty mentors.
Launched from shared academic beginnings, Scott Garrity continued, "Passages" artists took different paths over the last three decades: arts education for all ages, college level teaching, graphic design, the film industry and more, mostly centered around art. Some took a brief or extended hiatus from making art, while others never stopped. "Career responsibilities, as well as family and personal demands, cannot help but impact the making of art," she said, noting that she continued to make art with two young children, but "the tipping point" came after the birth of she and her husband's third child.
Fast forward to the present, Scott Garrity reflected on what it means to group women painters in an exhibition. She noted that "Passages: 8 Women Painters" is thematically in line with other recent, noteworthy exhibitions exploring and celebrating women artists' work and careers. "Moreover, it has been extraordinarily meaningful for me to revisit my past through these phenomenal women and exceptional artists," she said.
The exhibition will include a series of accompanying programs with the artists:
Passages Pairing – Figure Painting: Lisa Bartolozzi and Diane Crossan Lawler
Tuesday, March 22 Noon to 1:00 p.m.
Stedman Gallery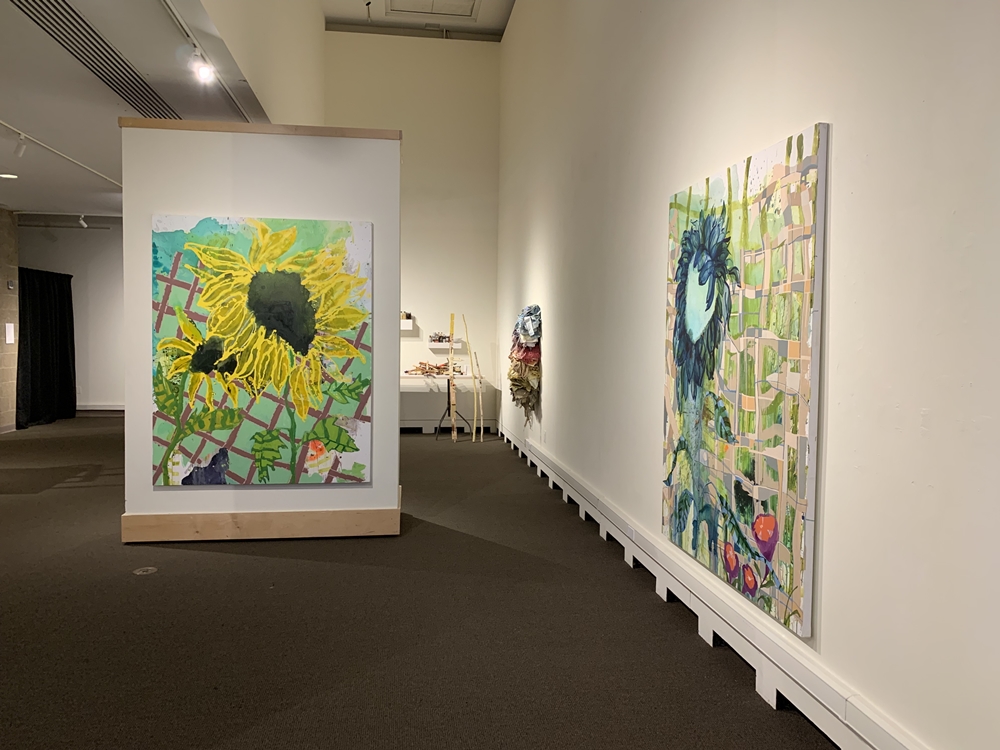 Passages Pairing – Landscape, Nature & Memory:  Elisabeth Condon and Helen O'Toole
Tuesday, March 29 3 to 3:45 p.m.
Virtual via Zoom. Register here or visit rcca.camden.rutgers.edu to receive the Zoom link.
Passages Pairing – The Process of Painting: Peg Curtin and Noreen Scott Garrity
Thursday, March 31 Noon to 1:00 pm
Stedman Gallery
Passages Reception and Panel – Meet the Artists!
Saturday, April 2 2 to 4:30 p.m. (Panel Discussion from 2:30 to 3:15 p.m.)
Stedman Gallery
Moderated by Scott Garrity, artists on the panel include Lisa Bartolozzi, Elisabeth Condon, Peg Curtin, Diane Crossan Lawler and Helen O'Leary.
The Stedman Gallery is located in the Fine Arts Complex, at 314 Linden Street on the Rutgers–Camden campus.
Curator tours for groups or individuals are available by contacting Noreen Scott Garrity at ngarrity@camden.rutgers.edu or 856-225-6306.