The Return of Live Music Enlivens Campus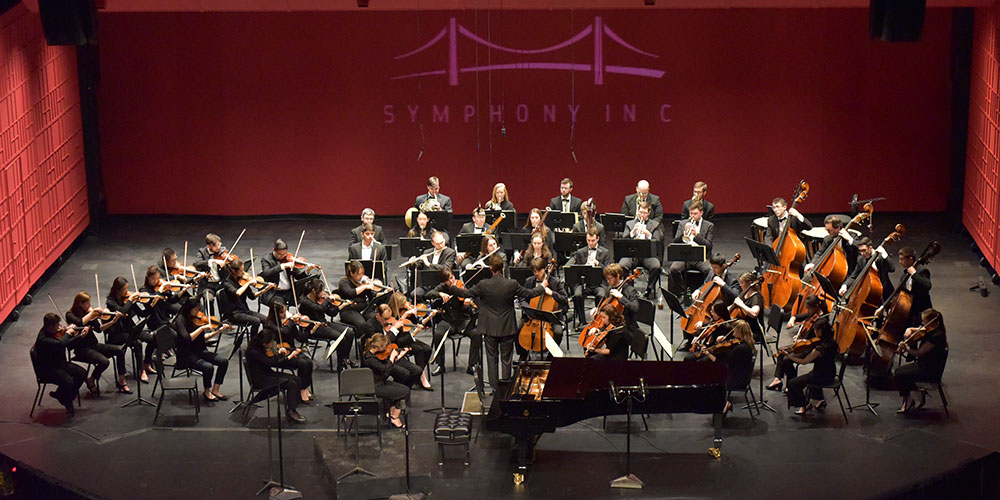 Symphony in C has returned to the Walter K. Gordon Theater at Rutgers University–Camden for the first time in two years.
If you walk by Rutgers University–Camden's Fine Arts Building these days, you might hear the sweet sounds of violins, the robust timbre of a French horn, the tinkling of piano keys, or a student choir expanding their lungs.
After two years that saw shutdowns and the return of performances in fits and starts, live music is back on campus in earnest with a full slate of concerts—as well as a musical theatrical production—scheduled for the remainder of the spring semester.
"Everyone is happy to be back live," says Joseph C. Schiavo, a teaching professor of music who directs the Mallery Series, a musical tradition on campus since 1986 that features chamber music groups and soloists. "The consequences of the pandemic have had a tremendous impact on music performances, performers, and the arts in general. Audiences are very happy to be back in person, and the performers, who had really suffered, are thrilled to be back in person. Many had performed virtually, but it's not the same. Live performances are much better."
Upcoming performances on campus include Symphony in C, a nationally recognized orchestra which is one of only three professional training orchestras in the nation. On Feb. 26, the orchestra performed its first show at Rutgers–Camden in almost two years. Symphony in C will perform twice more this spring: 8 p.m. Saturday, March 12, and May 21.
"It is a thrill to be back again at Rutgers–Camden," says Pamela Brant, president of Symphony in C. "The Walter K. Gordon Theater on campus is a fantastic hall for our orchestra, and we very much missed performing there."
Three Mallery Series performances are scheduled for at 11:20 a.m. on Wednesdays March 9, March 23, and March 30.
Rutgers–Camden Theater will also take the stage in a musical mood, putting on a production of The Spitfire Grill from March 31 through April 3.
Student performances include a choral performance and the Rutgers University–Camden Gospel Choir on April 6; a performance of George Gershwin's music on April 26; and The RU Project Band performing the music of Art Blakey and the Jazz Messengers.
Attendees are required to wear masks and show proof of vaccination. For Rutgers' policies, see coronavirus.rutgers.edu.