Preparing to Take on the World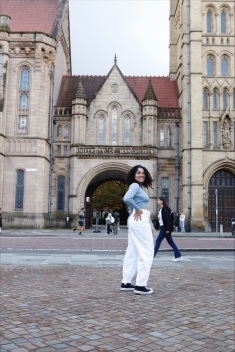 When Sharellis Sepulveda first enrolled at Rutgers University in Camden, she wasn't sure what she wanted to study. But as a first-generation student who had come to the United States with her family from the Dominican Republic when she was just 13 years old, she did know she was passionate about attending college.
"My mom always told me that education is something that cannot be taken away from you," said Sepulveda. "So, when I was given the opportunity to attend Rutgers–Camden, I took it."
Sepulveda is now a senior in the Honors College, double majoring in criminal justice and global studies with minors in Spanish and sociology. She is currently studying abroad in the United Kingdom for a semester after receiving a prestigious Benjamin A. Gilman Scholarship for International Study.
Just four short years ago, the world of higher education was new to Sepulveda. But she had participated in programs that introduced her to the university while she was attending high school in Camden. It also appealed to her because she could pursue her dreams while remaining close to home.
Still, even though Sepulveda was near family, she faced challenges in her first year as she adjusted to college life. "As a freshman, I wanted to prove to everyone who had believed in me that I wasn't going to take this opportunity or their support for granted," she said. "I felt like I needed to be perfect." When she started to struggle with a particular class, however, doubt began to threaten her confidence and conviction. 
"I had to learn that it is okay to stumble or even fail, because the most important thing is to keep moving forward and embrace those moments as personal growth," said Sepulveda. She credits her advisor for supporting her through those early stages, helping her to understand that asking for help is not a sign of weakness but a sign of the will to succeed.
It is not uncommon for first-generation students like Sepulveda to struggle at first. While these students make up about one-third of all college students in the United States, they are often older than their peers, predominantly female, and are more likely to care for dependents or working while attending classes. First-generation students are also less acquainted with how to navigate various procedures and are likely to experience feelings of insecurity, shame, or isolation.  
Sepulveda credits the many programs Rutgers–Camden has for first-generation students for helping her adjust to life on campus, especially The Center for Learning and Student Success (CLASS), which offers a range of support programs designed to help students be their best.
"The support and guidance I have gotten from everyone at CLASS has been so important," said Sepulveda. "They have been my support system no matter what I am facing or what kind of help I may need."
Now, as she nears graduation, Sepulveda is an active and engaged member of the Rutgers–Camden community. She is a member of Tri Alpha, an honor society for first-generation college students, serves on campus as a peer tutor, and works as a Spanish-language interpreter for Rutgers Law School.
Looking ahead, she plans to pursue a master's in international studies and hopes to eventually work in a diplomatic position, helping underserved people around the globe. As for her time at Rutgers–Camden, she sees it as truly transformative.
"I felt welcomed like I was truly a part of a family," Sepulveda said. "At Rutgers–Camden, I was not just able to attend college; I felt like I belonged here."