Celebrating School of Business professor Carol Kaufman-Scarborough's career and impact across the globe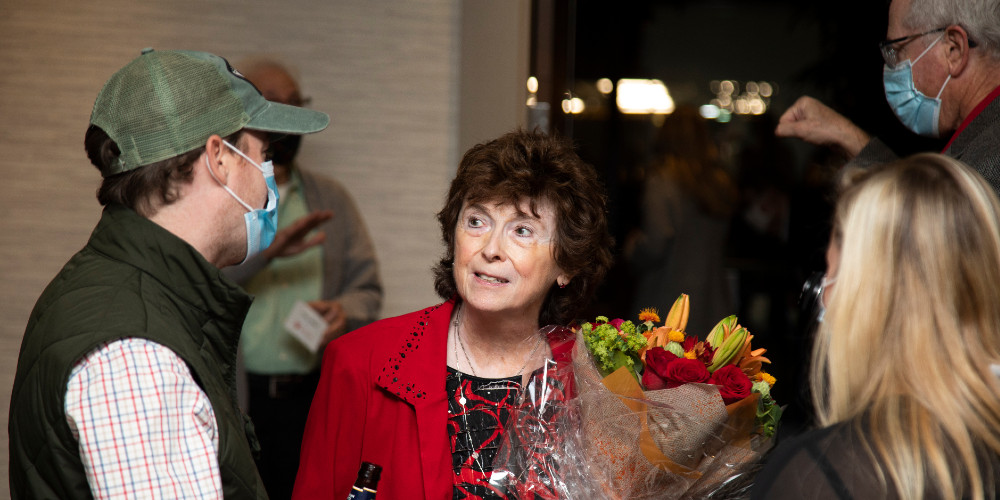 Carol Kaufman-Scarborough speaking with former students Kevin Walsh and Katie Loesch
A new scholarship honors her dedication to students
Colleagues, former students and family celebrated beloved Rutgers University‒Camden marketing professor Carol Kaufman-Scarborough, sharing stories about her accomplishments in the classroom and contributions internationally.
Kaufman-Scarborough's research on topics such as consumer behavior, vulnerable consumers, disability studies, e-commerce/web development and international business issues has been cited by other researchers and in the media.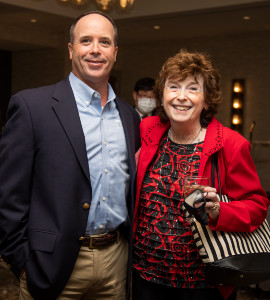 More than 70 people gathered Nov. 11 at the Hilton Garden Inn in Camden to honor Kaufman-Scarborough for her commitment to Rutgers‒Camden and as teacher, advisor and mentor to students and colleagues for 39 years.
Two former students, twins Katie Loesch and Kevin Walsh, credit their professional success to Kaufman-Scarborough's mentorship.
"When I think of my years at Rutgers, I think of Dr. Kaufman-Scarborough," says Loesch, a 2012 alum from Magnolia. "She had a welcoming demeanor and is passionate about business. She was an amazing mentor throughout college and afterward. She's an amazing connector."
Loesch owns two Rita's Water Ice franchises and works in management consulting.
"I owe where I am in my career to Dr. Kaufman-Scarborough's connections and Rutgers," says Walsh. He started his career at Subaru in 2012, and now works in digital marketing at Audi in North Jersey.
Fellow faculty members praised Kaufman-Scarborough for her support and guidance. Professor Rakesh Sambharya said Kaufman-Scarborough played a role in his career at Rutgers‒Camden. They met as Ph.D. students at Temple University and Kaufman-Scarborough vouched for him after he applied for a faculty position.
Monica Adya, dean of the Rutgers School of Business‒Camden, also praised Kaufman-Scarborough.
"Making connections comes naturally to Carol, and I could see it at play when I would meet alums who would always ask about her," Adya says. "She would often come to my office with a list of people who she felt I could benefit from meeting and, sure enough, many of these meetings have led to productive and fruitful relationships for the school. Carol epitomizes our culture – her positive presence is infectious, her love and care for the institution is deeply rooted and she has been a strong mentor for not only our students but also her colleagues."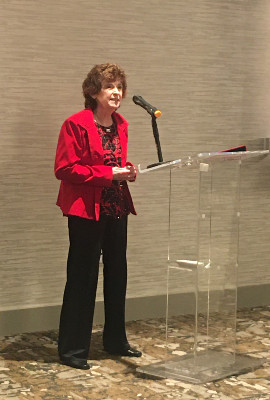 Kaufman-Scarborough arrived at the Rutgers‒Camden as an adjunct marketing professor in 1983, and has been at Rutgers‒Camden through five deans and three interim deans. She is the recipient of a Chancellor's Award for Civic Engagement for Academic Civic Engagement and a Lindback Distinguished Teaching Award.
In addition to her teaching, research and writing, Kaufman-Scarborough held administrative positions as director of the Business Leader Development Program, director of the BizEd Summer Leadership Program for high school students, associate dean of undergraduate studies and director of the undergraduate program.
In honor of her service, the university has established the Dr. Carol Kaufman-Scarborough Endowed Scholarship. This fund will provide financial support to business students and pays tribute to her legacy at Rutgers–Camden.
"I offer my best wishes and heartfelt congratulations to Carol Kaufman-Scarborough as she prepares to retire," says Chancellor Antonio D. Tillis. "The Rutgers‒Camden students she has educated, influenced and inspired, and the faculty whom she has supported, are the beneficiaries of her dedication to the university."
Kaufman-Scarborough's official retirement date is Jan.1, 2022.