Rutgers–Camden alumnus Vincent Cream discussed the life and legacy of his grandfather, boxer Jersey Joe Walcott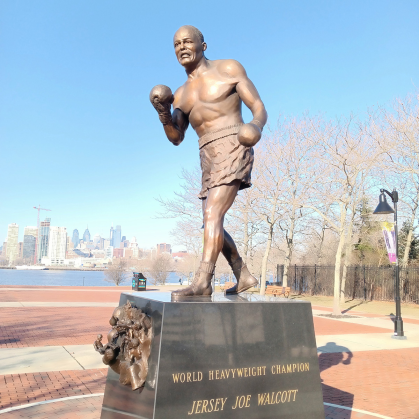 Camden County native Jersey Joe Walcott ascended to the top of professional boxing as heavyweight champion of the world and later became the highest-ranking law-enforcement official in his home county. Today, Walcott's likeness continues to survey Camden from Wiggins Waterfront Park, where a statue in his honor was unveiled in 2021. Rutgers University in Camden commemorated Walcott's life and contributions to the region and the sporting landscape at an event held March 8, which featured a conversation between Walcott's grandson, Vincent Cream CCAS'83, and Emmy-winning journalist Jennifer Lewis-Hall.
"Our community knew Jersey Joe Walcott as a true hero and legend, but also as a local leader," said Chancellor Antonio D. Tillis. "He was a true role model for generations of children here in Camden and across the region."
Born Arnold Raymond Cream in Pennsauken Township in 1914, Walcott changed his name to honor both his home state and his boxing idol, Joe Walcott.
"A lot of fighters went around the world fighting different people, but nobody else took the name of their state on their back around the world," Vincent Cream said. "He told people many times that when he became 'Jersey Joe Walcott,' it was so he could represent the entire state."
Walcott dropped out of school at age 15 after his father's death, working in a soup factory, delivering ice, and collecting trash to support his mother and 11 siblings.
"He didn't have an amateur boxing career; he had to turn pro to fight to support his family," Cream said. "He even forged his age so he could do that—his first pro fight was at age 16, even though you were supposed to be 18. He went down to Vineland to fight Cowboy Wallace and won. Then he rushed back home and told his family, 'We've got more money now for food and heat.'"
Walcott claimed the heavyweight belt after defeating Ezzard Charles on July 18, 1951. At 37, he was the oldest world heavyweight champion, a record that stood until George Foreman claimed the title as a 45-year-old in 1994. Foreman's brother, Roy, was in attendance for Cream and Lewis-Hall's conversation.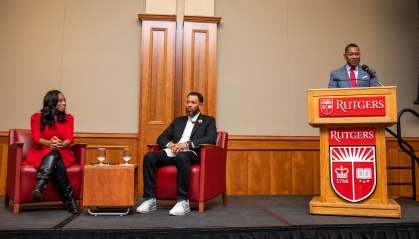 "When you're in the felt clutches of circumstance, and life has its hand on your neck and someone's hitting you in the head, you can only depend on you," Cream said. "You need the resilience and the perseverance to get up. He fought for 21 years, which was almost unprecedented. While he had 17 losses on his record, what's significant about that is not the number of losses, but the number of times he came back. He was resilient and had fortitude."
After retiring from the sport, Walcott worked as an actor (appearing alongside Humphrey Bogart in 1956's "The Harder They Fall") and a professional wrestler; he also officiated the infamous 1965 title fight between Muhammad Ali and Sonny Liston. Walcott was the first African American to be elected sheriff of Camden County in 1971. He chaired the New Jersey State Athletic Commission from 1975 to 1984 and is a member of the International Boxing Hall of Fame. He died in 1994 at age 80.
"Jersey Joe Walcott's level of intense commitment to the community resonates with me," Chancellor Tillis said. "It's what we live here at Rutgers–Camden every single day, and a very distinct point of pride for all of us as Scarlet Raptors."