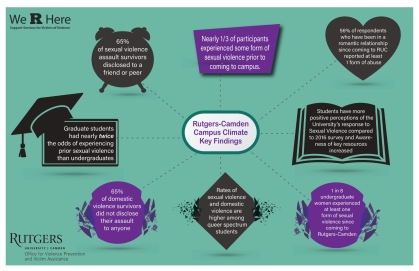 Campus Climate
In 2016, Rutgers University Camden conducted the first Campus Climate Survey to identify trends and needs regarding sexual violence at our RUC campus community.
The 2016 survey led to creating the Office of Violence Prevention and Victim Assistance at RUC. For more information about campus climate surveys at Rutgers University visit: https://socialwork.rutgers.edu/centers/center-violence-against-women-and-children/research-and-evaluation/understanding-and
In 2020, RUC and VPVA conducted a follow-up campus climate survey to identify current trends and needs. The 2020 survey was expanded to include questions on domestic and dating violence and trauma experienced prior to attending RUC.
Prior to administering the survey, an advisory board was created to assist with the development of outreach measures to promote the survey to students. The advisory board was comprised of several key stakeholders from multiple departments across the school.
In total, 1,236 students participated in the survey - a 17.5% response rate - from October 20, 2021 through December 22, 2020.
Of the students who took the survey, 72% identified as women, 25% identified as men, and a little less than three percent identified as transgender, gender queer, non-binary, or another gender.
The key findings from the survey were used by VPVA and the advisory board to generate an action plan for the campus to respond to the findings through support, education and policy development.
Need Help?
Call 856-225-2326 to speak with someone immediately.