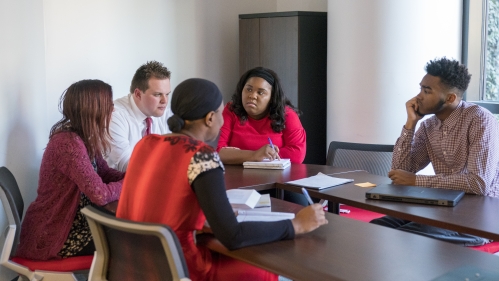 Information for Applicants
Getting Started
The fellowship process requires applicants to articulate a clear argument for this experience will help them to achieve their goal. Fellowship applicants are passionate, informed, and engaged individuals who connect their personal ambitions to a larger context.
OSDFA will work alongside you to assist you in developing self-advocacy skills and clearly defined goals to help you become a successful applicant. Before beginning an application, students should consider the following: 
What type of experience am I looking for?
Experience types might include internship, research program (degreed and not), teaching, study abroad, community service and more.
Once you've narrowed the type of experience you are looking for, learn the program inside and out. You will be expected to demonstrate an understanding of the program and how your experience fits its mission.
How much time do I hope to commit to my experience?
Researching and applying for fellowships takes time. Consider how this process will fit in to your existing roles and responsibilities.
Deadlines are nonnegotiable, so work backward from that date to ensure that you budget enough time to thoughtfully compose and compile all application components. We encourage applicants to plan at least six months in advance.
Depending on the type of program you apply for, the timeframe for participation will range from days to years – know what you are willing to commit to.
How will this experience help me reach my future goals?
Your fellowship application will be best supported by clear, defined objectives. The most appropriate award will be one that aligns with your goals.
Most importantly, remember that fellowships are means to achieve your goals, not the goal in itself.
To get started, students are asked to:
Review the full range of opportunities.
Review the eligibility requirements and application instructions of fellowships/scholarships you intend to pursue very carefully. Our meeting time will be tailored to your specific goals and interests, so please come prepared.
Be prepared to discuss your interests and your goals clearly; if you're still exploring, please be mindful that we will be considering awards for no sooner than the next calendar year.
To provide students with the best possible experience, we ask all students to complete our Interest Form. This process encourages students to consider the purpose of their application and will provide us with the information needed to best help you."
Submit the Interest Form.
Interest Form
Students who submit this interest form will be contacted via email to schedule an advising meeting.