Rutgers Law alumnus earns victory for client who assisted January 6 investigation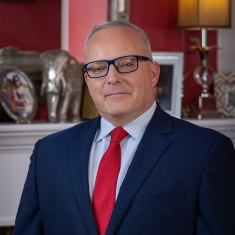 Rutgers–Camden alumnus Christopher D'Alessandro RLAW'18 never expected to have a case with its origins in the riots at the U.S. Capitol on January 6. But when a Rutgers student faced false and defamatory allegations on social media, he welcomed the opportunity to help that student clear his name. 
Before the riots, D'Alessandro's client had a short relationship with Riley June Williams, who actively participated in the riots and could be seen clearly in the video footage of that tragic day. In the aftermath of the insurrection, D'Alessandro's client spotted Williams in media coverage and contacted the FBI, providing information to assist the investigation. When Williams learned the authorities were pursuing her, she fled, telling authorities and the press her ex was abusive and stalker, even filing for a temporary order of protection. 
"My client fulfilled his duties as a responsible citizen, and he paid the price of getting a protective order filed against him, which was then utilized to justify someone's flight from the FBI," D'Alessandro said. His client denied all the claims made against him by Williams.
Williams was eventually arrested, convicted, and sentenced to three years in prison for her role in the riots. But an associate, Cyrus Sanders – who D'Alessandro's client did not know – continued to make defamatory remarks about him on social media and in the press. D'Alessandro brought a defamation suit on behalf of his client, including a request for $50,000 in damages, against Williams and Sanders.
While both defendants sought to delay the matter by actively avoiding subpoenas, D'Alessandro persisted. He eventually received permission from the court to serve Sanders via Facebook. Subsequent conferences with the judge and public defender helped to move the case forward, and on October 16, a default judgment was entered in favor of his client, requiring both Williams and Sanders to pay $50,000 in damages. 
"My client had faith in the system and the rule of law," D'Alessandro said. "The victory of the rule of law is inherent in the default judgment against these defendants."
Ensuring his client received justice was important to D'Alessandro, a military veteran who served overseas in Iraq and Afghanistan before attending law school. "I have been deployed to places where, outside of areas controlled by United States military forces, the rule of law had largely ceased to exist," said D'Alessandro. He emphasized that for the citizens of those nations, justice was reserved solely for those with the most power, which made him appreciate even more the freedoms guaranteed in the United States.
"I personally view this as a victory not just for our client but for the rule of law," said D'Alessandro.