Rutgers–Camden Caps off Banner Veterans Day With N.J. Gov. Phil Murphy's "We Value Our Veterans" Award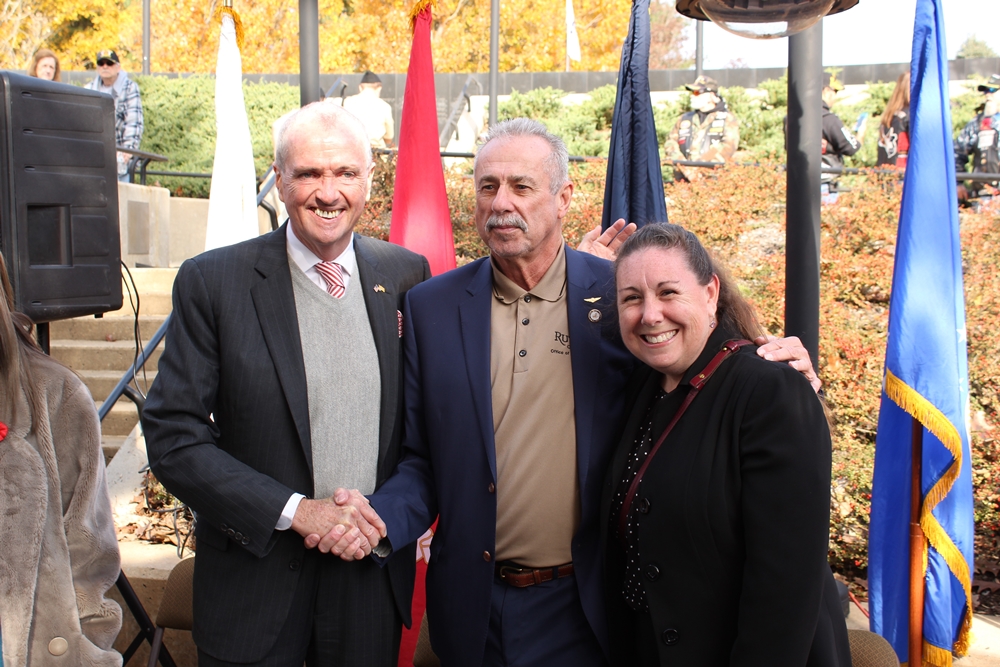 Rutgers University–Camden, the first Purple Heart University designated in the state of New Jersey, received yet another distinguished honor yesterday as N.J. Gov. Phil Murphy presented the university the "We Value Our Veterans" Award — due in large part to the efforts of our Office of Military and Veterans Affairs (OMVA) — at a ceremony in Holmdel. The award is given to academic institutions, municipalities and businesses that meet specific criteria confirming a commitment to honor the sacrifices, patriotism and bravery of those who have worn a military uniform.
"We are truly honored to receive this recognition, which is indicative of Rutgers–Camden's continued focus on providing additional services to the men and women who have served," says Fred Davis, campus director of veterans affairs. "We will continue providing outstanding support for our veterans and military personnel."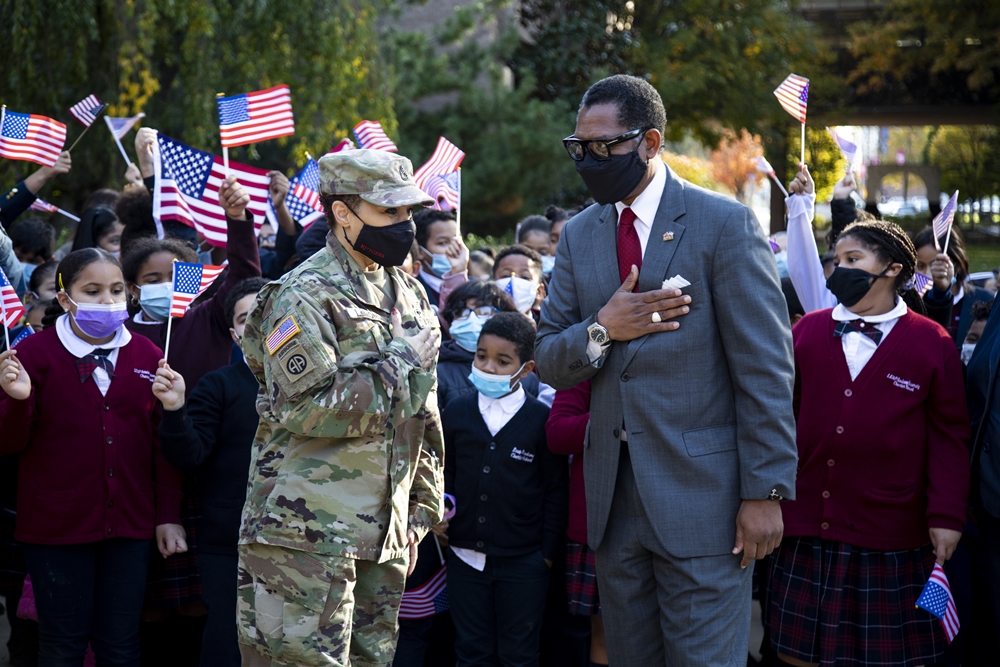 Rutgers–Camden Chancellor Antonio D. Tillis lauded Davis and the Office of Military and Veterans Affairs for its efforts to cater to more than 400 student-veterans enrolled in undergraduate and graduate programs.
"Each student-veteran who visits our Office of Military and Veterans Affairs is welcomed by Fred Davis, who becomes their primary point of contact, helping them to navigate the application process and educational benefits, and make a smooth transition from military to civilian life," says Chancellor Tillis.
Among its many initiatives, the award-winning OMVA supports student-veterans via the Joshua Piccoli Memorial Scholarship, Jeremy Kane Memorial Scholarship and Nursing Veterans Scholarship Fund. The office also helped to establish a Veterans Emergency Fund, which enables student-veterans in dire circumstances to take a temporary loan and repay it on a monthly basis using their V.A. benefits.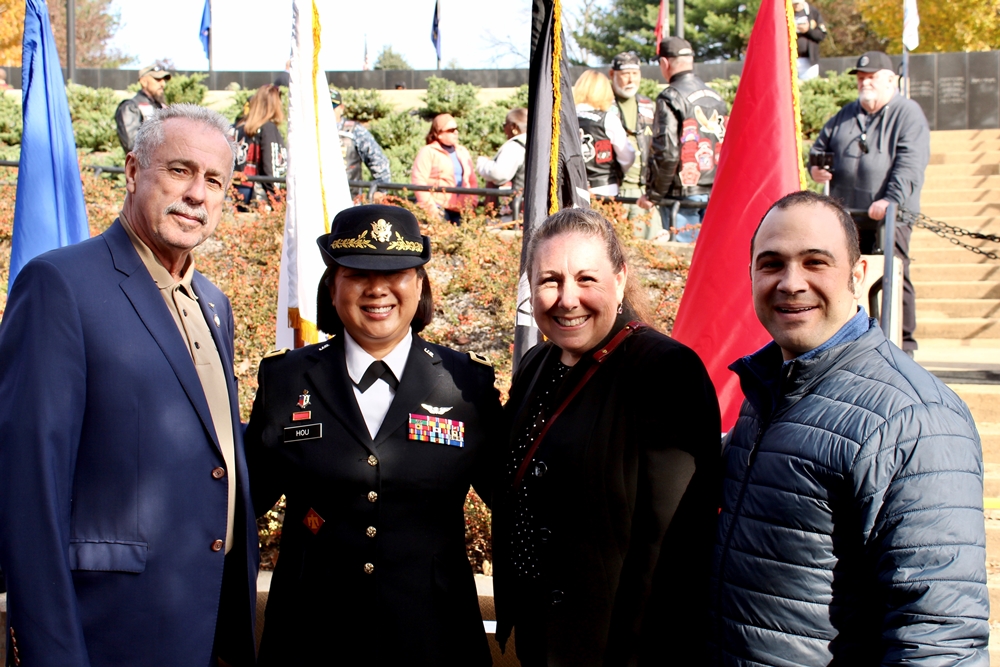 The OMVA also hosts an annual orientation program tailored for new student-veterans, and regularly provides support services on issues specific to veterans, including matters of health and financial aid. In addition, it has been a major proponent of the student-veterans group at Rutgers–Camden and stewarded the opening of the student-veterans lounge, located on the lower level of the Campus Center, in 2009. The space has become a popular gathering spot for student-veterans to study, talk and share a sense of camaraderie.
An innovative new academic program at Rutgers–Camden also recognizes the unique experiences and challenges that many veterans share. The Veterans Serving Veterans Nursing Fellowship Program — funded by a three-year, nearly $1.5 million grant from the Health Resources and Services Administration under the U.S. Department of Health and Human Services — prepares military veterans for civilian careers as nurses who will care specifically for other veterans.
The "We Love Our Veterans" Award ceremony capped off a banner Veterans Day for Rutgers–Camden, as more than 200 people from the university community and beyond attended a moment of silence at the Jeremy Kane Memorial, located next to the Campus Center. The gathering was a sea of red, white and blue as about 80 students from the LEAP Academy University Charter School waved American flags and chanted "U.S.A.," and news cameras rolled, capturing the exuberance of the crowd.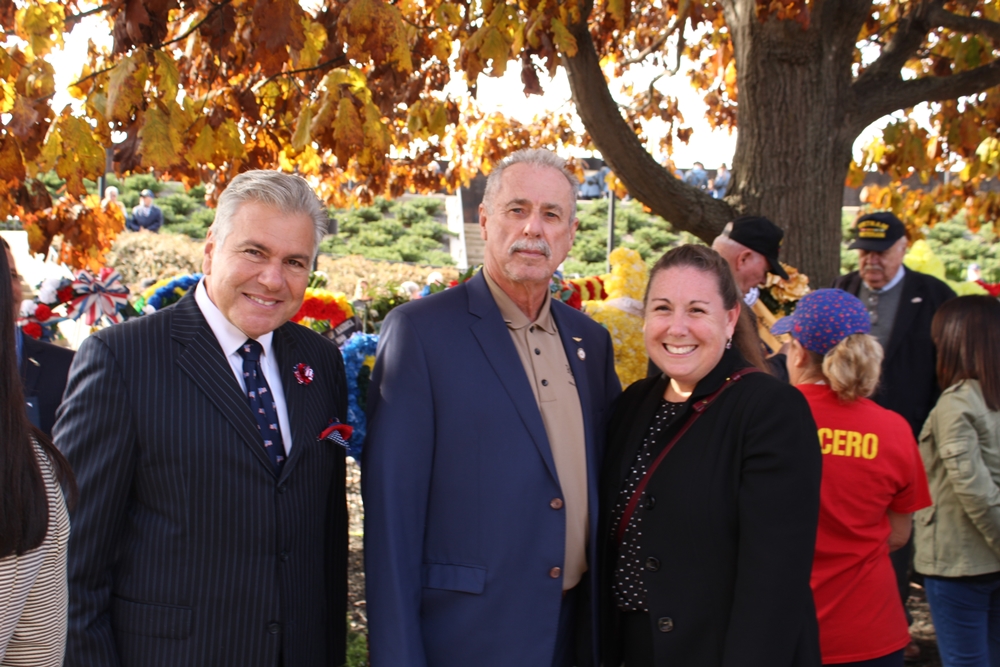 The weeklong celebration continues as the OMVA hosts Veteran Service Organization (VSO) Day for veterans from 11 a.m. to 1 p.m. Monday, Nov. 15. Veterans are invited to stop by the Multi-Purpose Room, located on the main level of the Campus Center, to speak with representatives from local VSOs about the many support services and resources available in the area. The celebration will peak on Tuesday, Nov. 16, as Rutgers–Camden hosts the annual student-veteran luncheon, a special thanks to Rutgers–Camden students and alumni who have served in the U.S. Armed Forces, at noon in the Multi-Purpose Room. Rutgers–Camden's own Lisa Hou, an M.B.A. student and the adjutant general and commissioner of the N.J. Department of Military and Veterans Affairs, will deliver the keynote address. Rutgers–Camden will host a series of veterans-related events continuing throughout the fall semester; check Facebook, Twitter, YouTube, LinkedIn, Snapchat and Instagram for the latest updates.