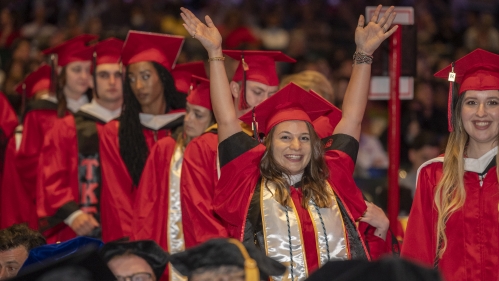 Commencement 2023 Speakers
Keynote Speaker: Dana Redd SBC'96
Former Camden Mayor
Monday, May 15
4 – 6:30 p.m.
Freedom Mortgage Pavilion
The Honorable Dana Redd SBC'96, former mayor of the City of Camden, was named as the keynote speaker for the 2023 Rutgers University–Camden and Graduate School Commencement, to be held Monday, May 15 at 4 p.m. Redd, who transformed and revitalized Camden during two terms as mayor from 2010 to 2018, will also receive an honorary doctor of letters at the ceremony, as confirmed by the Rutgers University Board of Governors on Thursday, April 20.
"Dana Redd is a change agent of the highest caliber, and our city continues to build on the foundation she put into place," said Rutgers–Camden Chancellor Antonio D. Tillis. "The arc of her career has been dedicated to the people and communities of New Jersey. I have no doubt that she—by the example of her life and through the words of her speech—will encourage our graduates to leverage what they have learned at Rutgers–Camden to improve their communities and the world." 
Under Redd's leadership, Camden transitioned to a new, community-based model of public safety, whose success motivated President Barack Obama to visit the city. She led a state intervention for the public school system to improve academic outcomes among the city's children, and her financial management earned Camden its first investment grade rating from Standard & Poor's in more than 15 years.
After completing her two terms as mayor, Redd served as CEO of the Rowan University/Rutgers–Camden Board of Governors, where she managed the construction and operations of the Joint Health Sciences Center and secured $4.5 million in state funding for new health initiatives. Currently, Redd serves as CEO of the nonprofit Camden Community Partnership, where her work continues to elevate the City of Camden. She is a member of the Rutgers–Camden Finest, a distinction reserved for the university's most prominent alumni.
In addition to Redd, four other prominent South Jersey leaders will deliver keynote speeches at the Convocation ceremonies of Rutgers–Camden's four academic units.
Keynote Speaker: Jeff Hartmann SBC'84
Founder, Elm Tree Communities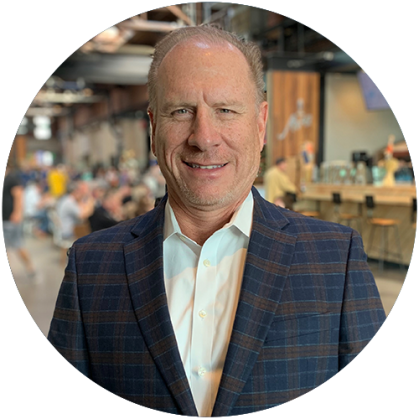 Tuesday, May 16
9 – 10:30 a.m.
Freedom Mortgage Pavilion
Jeff Hartmann (SBC'84) is the founding member and serves as President of Elm Tree Communities, a private real estate company. In this capacity, he develops, implements, and oversees ETC's development strategy as well as all capital markets activities.
With more than two decades in CFO, COO and CEO capacities, Jeff Hartmann has played a crucial role in the creation and development of the Native American gaming and hospitality industry. His career spans the landmark casinos of Foxwoods and Mohegan Sun in Connecticut and Ocean Casino in Atlantic City, New Jersey. 
Jeff has addressed wildly divergent opportunities along the way. From acquiring the WNBA Connecticut Sun franchise for the Mohegan Sun to leading the Mohegan Sun Executive team in developing the property master plan as well as opening the first Pennsylvania casino, Mohegan Sun at Pocono Downs.
Jeff has worked closely with major Wall Street firms, including Goldman Sachs, Citibank, Wells Fargo, and Bank of America. As Chief Financial Officer of the Mohegan Tribal Gaming Authority, he played a pivotal role in securing $4 billion in public and private financing, including the only $1-billion syndicated bank credit facility for a Native American tribe. 
Since the founding of Elm Tree Communities in 2020, the firm specializes in multi-family, mixed-use real estate, and hospitality projects. Today, Jeff and his associates at the Elm Tree are creating next-generation multi-family developments that reflect the shifts in residential and lifestyle design. The first resident project www.bluewaycommons.com opened in December 2022.
Clients have benefited from his breadth of experience and expertise, including understanding the risks and opportunities in real estate, real estate due diligence including financial modeling, following the use and selection of cap rates, proforma development analysis, development feasibility analysis, ground leases, working with REITs and Private Equity Funds. 
Jeff began his career as a Certified Public Accountant with PricewaterhouseCoopers, LLP, working from 1984 to 1991 in the Philadelphia and New York offices as a specialist in real estate and casinos. He earned his Bachelor of Arts in Accounting from Rutgers University–Camden and earned a Certificate in Real Estate Development from the Schack Institute of Real Estate at New York University. Jeff maintains Key Gaming licenses in New Jersey, Connecticut, and Pennsylvania.
He currently serves as the Chairman of the Board for Read to Grow, a literacy-based charity located in New Haven, Connecticut. Jeff also volunteers his time as board member for the Connecticut Sports Foundation Against Cancer and Fans 4 the Cure. Jeff is married with four children and lives in Connecticut.
Keynote Speaker: Sundeep Iyer
Director of New Jersey Division of Civil Rights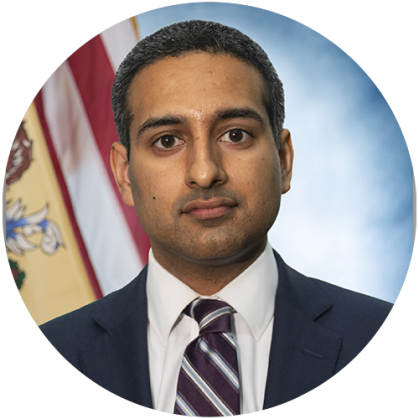 Tuesday, May 16
12:30 – 2 p.m.
Freedom Mortgage Pavilion
Iyer, a New Jersey native, currently serves as Assistant Attorney General and Senior Counsel to Attorney General Platkin.  In that capacity, he is the Attorney General's principal advisor on civil rights matters.  He oversees the New Jersey Division on Civil Rights and coordinates department-wide civil rights initiatives.  He also works with the Office of the Solicitor General on appeals involving matters of constitutional law, statutory interpretation, civil rights, and criminal law.
Prior to joining the Office of the Attorney General, Iyer was a senior associate at Hogan Lovells US LLP.  During his time at the firm, he served as a special attorney for the State of Minnesota in the prosecution of the four former police officers charged in connection with the death of George Floyd.  He was part of the legal team that obtained a conviction of Derek Chauvin on charges of second-degree murder, third-degree murder, and second-degree manslaughter, and he briefed, argued, and won key legal motions for the State at trial.
Iyer was also part of the litigation team that obtained an injunction against President Trump's travel ban and defended that injunction before the U.S. Supreme Court. He represented federal death-row inmates in a challenge to the Trump Administration's federal lethal injection protocol. And he was one of the lead attorneys for a group of eight plaintiff organizations challenging President Trump's rescission of the Bears Ears National Monument in Utah.
Iyer previously clerked for U.S. Supreme Court Justices David H. Souter and Stephen G. Breyer, as well as for then-Judge Brett M. Kavanaugh on the U.S. Court of Appeals for the D.C. Circuit.  He received his A.B. from Harvard College and J.D. from Yale Law School.  Prior to graduating law school, Sundeep was the Principal Quantitative Analyst at the Brennan Center for Justice at NYU School of Law, where he directed statistical research on voting rights, campaign finance, and redistricting issues.
The Division on Civil Rights is responsible for enforcing the New Jersey Law Against Discrimination, the nation's oldest anti-discrimination law, which prohibits discrimination on the basis of race, creed, color, national origin, ancestry, sex, age, marital status, sexual orientation, gender identity, disability, pregnancy or breastfeeding, and a variety of other protected characteristics in the workforce, places of public accommodation, housing, and lending. The Division is charged with preventing and eliminating discrimination in New Jersey by investigating and acting upon complaints alleging discrimination, and by affirmatively issuing reports and publications, conducting investigations, and implementing educational and community outreach programs to address systemic discrimination.
Keynote Speaker: Shannon Patel
Consultant, Strategic Planning Initiatives, Quality Outcomes Management and Professional Practice Development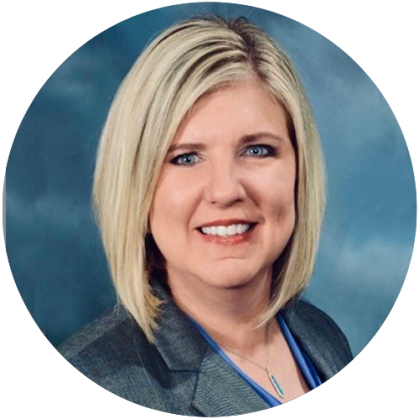 Tuesday, May 16
4 – 5:30 p.m.
Freedom Mortgage Pavilion
Dr. Patel joined Cooper as the Assistant Vice President of Nursing Quality, Professional Practice and Innovation in 2019. Since the inception of her nursing care in 1994, Dr. Patel has served in a variety of clinical leadership positions including critical care, cardiology, clinical and professional development, quality and safety, and designation/accreditation preparedness.   
Throughout her over 25 years in healthcare, Dr. Patel has dedicated her knowledge, experience, and expertise to foster and develop the clinical expertise, engagement, inspiration, and professionalism of the nurses and inter-professional teams she serves.  Her passion, compassion, and respect for the nursing profession fosters a level of clinical excellence resulting in the provision of high-quality care and clinical outcomes achieved.
Dr. Patel's vast and varied experiences have enabled her to develop proactive and innovative approaches that have strengthened and improved the organizations and communities she has served.  Her authentic and impactful leadership has led organizations to successful designation and accreditation bestowed upon worthy centers of clinical excellence.  Dr. Patel brings her knowledge, expertise, and experience to curate and cultivate the endless talent and potential Cooper Nursing has to offer.
Certified as both a nurse practitioner and nurse executive, Dr. Patel also maintains professional board certifications in clinical quality and critical care, her areas of clinical interest and expertise. In support of her goal to develop Cooper Nursing into a regional as well as national center of excellence, Dr. Patel serves as co-chair to the New Jersey Organization of Nurse Leaders (NJ ONL) Nursing Workplace Environment and Staffing Council (NWESC) that supports the sustained development of healthy work environments for Cooper Nurses as well as the thousands of nurses participating in the NJ NWESC collaborative across the state.
While earning her doctoral degree in nursing leadership and clinical practice, Dr. Patel joined the Helen Fuld Trust National Institute for Evidence-Based Practice (EBP) in Nursing and Healthcare for the Ohio State University where she actively serves as an EBP mentor leading the transition of research into clinical practice at CUHC as well as numerous other organizations across the country.  These efforts enable Dr. Patel to help establish and maintain Cooper Nursing's consistent alignment with current evidence-based best practices supporting the mission and vision of Cooper Nursing to deliver high quality and evidence-based care to all patients entrusted to their care.
 
Keynote Speaker: Victor G. Carstarphen
Mayor, City of Camden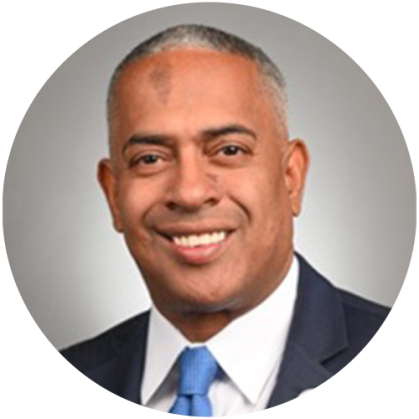 Wednesday, May 17
10 a.m – 12:30 p.m.
Freedom Mortgage Pavilion
Mayor Victor G. Carstarphen was born and raised in Camden, New Jersey, and a proud graduate of Camden High School, class of 1988.  In 1993, he received a degree from Temple University's Fox School of Business. 
As a Senior Associate for Holmes & Company LLC, a Certified Public Accountant, Mayor Carstarphen worked with a broad range of clients. His duties included reviews of internal controls, Agreed-Upon Procedures (AUPs), Forensic Audits, Performance and SOC 1&2 Audit engagements. Victor has also been on audits of Financial Management Systems of Transit Authorities. His involvement on SOC 1 audits covered IT control areas such as technology management, Client Portal Reporting, Information Security, Physical Security, Incident Response, Database Access, Encryption, Workstation Access, Antivirus, Network Security, Access Firewalls, Application Security, Change Management control, Data Retention and Backup, and Disaster Recovery and Business Continuity. 
Prior to working at Holmes and Company, Mayor Carstarphen was President of Academics First, an educational tutoring company that provided free after school tutoring services for students K-12 in schools throughout the City of Camden. He also coached the Camden High School Boys Basketball team, where he served 5 seasons as an assistant coach, with his last year serving as Head Coach. His passion for Camden City has always been on display in serving our youth. 
Mayor Carstarphen was one of the most decorated basketball players in Camden High School history. He is 4th on Camden High School's all-time scoring list with 2,136 points, and starting point guard on the 1986 USA Today #1 High School Basketball Team in the country. He played all 4 years for the Camden High Varsity basketball team, and was a 3-Time All-South Jersey selection, and 2-time First-team All-State selection. 
At Temple University he enjoyed a fine collegiate basketball career as a 3-year starter under Hall of Fame Coach John Chaney. Was captain for 2 years, and helped the team advance to 2 NCAA Elite Eight games in 1991 and 1993. 
Mayor Carstarphen was a 10-year proud board member with the Camden Educational Foundation, which helps to provide college scholarships for 25 high school graduating students each year in the Camden City School District.  Victor Carstarphen was appointed to Camden City Council as the 2nd Ward Representative on January 3rd, 2020. On May 11, 2021 Camden City Council voted to appoint Councilman Carstarphen as Mayor to fill the unexpired term created by former Mayor Frank Moran.  On January 1, 2022, Mayor Victor G. Carstarphen took the oath of office as Camden's 50th chief-elected official in City history.