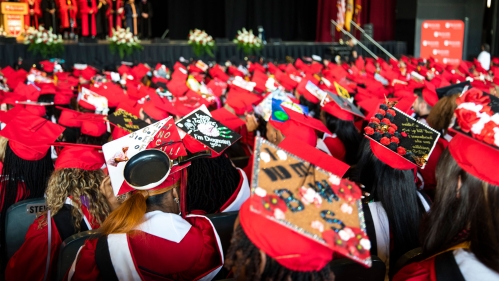 Commencement Accessibility Information
Traveling with Assistive Devices
Bring Your Own Assistive Device: Please be aware that there will be a considerable amount of on-site travel required to move from the parking lot to your seat. From the main entrance of the Freedom Mortgage Pavilion to the accessible areas, walking distances of 140 to 250 feet may be required. If you require a wheelchair or other device for mobility, you must bring it with you. Walkers, wheelchairs, and scooters are permitted in the stadium, but are not supplied by the university. Please note strollers will not be permitted in the Freedom Mortgage Pavilion and will have to be checked at Guest Services.
Accessible Seating Information
Limited accessible seating is available at the Freedom Mortgage Pavilion.
Upon entering the Freedom Mortgage Pavilion, check in with Guest Services. Event staff will provide individuals and one companion with tickets to sit in the accessible seating section on a first-come, first-served basis.
Other members of your party may sit in rows adjacent to, but not in, the accessible seating area.
Interpreting Services
Livestream access to captions will be provided to Wi-Fi enabled devices. Contact disability-services@camden.rutgers.edu with any questions.
Open access American Sign Language (ASL) Interpreting will be provided.
ASL Interpreters will be on stage.  There will be reserved seating for guests who would like to sit near the ASL Interpreters. You may visit Guests Services to be escorted to reserved seating. 
Service Animals
Service animals as defined by the Americans with Disabilities Act (ADA) are allowed at the ceremony. All other animals are prohibited from commencement. Visit the ADA website for details.
Indoor and Off-Site Viewing Options
Take advantage of these indoor viewing options:
Live Streaming Webcast: View commencement online on May 15, 16 and 17. A high-speed internet connection, such as cable or fiber optic network, is recommended.