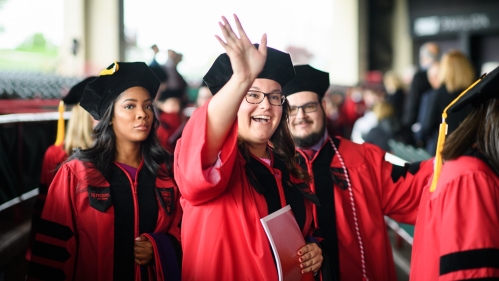 Commencement Extras
Find everything you need to make your day extra special.
Academic Regalia
Dear Class of 2023:
Academic regalia and other commencement items are now available for purchase.  Shop online at https://herff.ly/rucamden or visit the University District Bookstore located at 601 Cooper St, Camden, NJ 08102.
Cap & Gown order deadlines:
In-store Pick Up: March 24, 2023
Ship-to-Home: April 14, 2023 (shipping fees apply)
You may also visit the University District Bookstore and buy in-person from 3/7/23 - 5/17/23.
Please note:
Honors cords are not available until academic units calculate honors closer to the graduation date. In order to be eligible to purchase honor cords, Bookstore associates will check if your name appears on honor listing that have been provided to the University District Bookstore by academic units.

Several student groups and organizations give their members special cords, stoles and sashes. These are not for sale at the University District Bookstore. 
For more information contact our HJ grad specialist: 
Chris Urban at 215-245-1142 or curban@herffjones.com
Senior Portraits for the Class of 2023
 Photographers from Prestige Photography by Lifetouch will be on campus from 10:30 a.m. – 6:30 p.m. as follows:  
   December 12-14, 2022: Campus Center, Lower Level, Executive Meeting Room
   March 27- March 31, 2023: Campus Center, Lower Level, West BC Conference Room
   April 11-13, 2023: Campus Center, Lower Level, West BC Conference Room
Schedule your appointment at www.ouryear.com, entering school code 34
When you schedule your appointment, you will receive complete information on how to prepare for your sitting. Don't forget that you can use these portraits for your Professional Networking and Job Search sites. 
Don't miss out on capturing this once in a lifetime achievement.