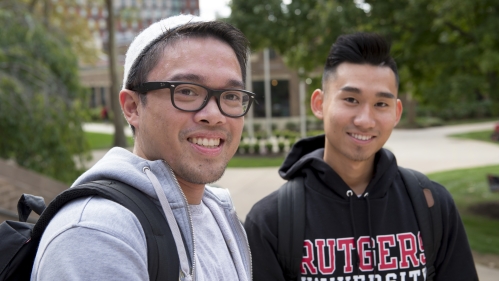 Diversity: Activities & Organizations
Rutgers University–Camden works to expand opportunities for students to learn about and interact with different people, cultures, and customs. We strive to offer diverse programs that challenge students' concepts and open students' minds to new opportunities and ways of thinking. 
Student Organizations
There are more than 140 student organizations at Rutgers–Camden, many of which engage in activities related to diversity and equity. Examples of these organizations are listed below. See a full listing of student clubs and organizations. 
African Students Association
Asian Cultural Society
Black Students Union
Filipino League of Innovative Pinoy Students
French Club
International Students Association
Korean Students Association
Latin American Students Organization
Muslim Students Association
New Jersey PIRG
Orthodox Christian Campus Ministries
Salvation House of Prayer
Sikh Student Association
Turkish Students Association
Underground: A Social Justice Organization
West Indian-Indian Connect

ALIANZA (Latino Law Students Association)
Asian Pacific American Law Students Association
Association for Public Interest Law
Black Law Students Association
Brehon Society
OUTLAWS
Women's Law Caucus
Commitment to Service and Access