Master Class Series and TRHT Special Edition: The Crown Act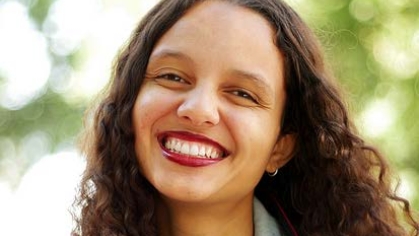 To recognize the anniversary of the signing of the CROWN Act within the state of New Jersey, we invite you to a special edition of the Master Class series. During this talk guest speaker and author St. Clair Detrick-Jules will discuss what she has learned through her almost four year- long journey photographing and interviewing 101 Black women with natural hair.
The talk will invite the audience to think about the ways in which conversations about Black hair can be used as an entry-point into generational healing, relationship building, and anti-racism work. Through her work, St. Clair will offer a blueprint for using narrative storytelling — both on an individual level and on a communal level — as a form of social activism.
What are Master Classes?
The Rutgers University-Camden Division of Diversity, Inclusion, and Civic Engagement (DICE) Master Class series is a social and cultural capacity building education initiative led by renowned experts in the subject of diversity, equity, and inclusion.
Truth, Racial Healing & Transformaion Center (TRHT)
To advance diversity, equity and inclusion efforts across the campus and local community, Rutgers University-Camden has officially launched the Truth, Racial Healing & Transformation Center (TRHT).
The center was developed through a collaboration between Rutgers University and the American Association of Colleges and Universities (AAC&U).
The work of the TRHT center is to create and promote positive narratives about race in the community through racial healing activities, empowering community members to work towards creating transformational change to advance justice and create more equitable communities.
Ultimately, working to bridge the gap between academia and community by building diverse, inclusive, and collaborative spaces for justice.