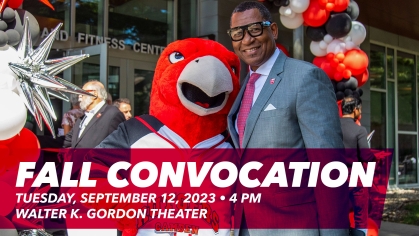 Celebrate the Start of a New Academic Year at Rutgers–Camden's Second Annual Fall Convocation
Tuesday, September 12, 2023
Convocation Ceremony | 4:00–4:45 p.m. 
in the Walter K. Gordon Theater

Celebration | 4:45–6:00 p.m 
Featuring a free culinary road trip on the Campus Quad
---
On behalf of Chancellor Antonio D. Tillis, you're invited to attend a special ceremony and celebration on Tuesday, September 12 from 4:00 to 4:45 p.m. in the Walter K. Gordon Theater followed by a Celebration featuring a free food on the Campus Quad from 4:45 to 6:00 p.m.
New and returning undergraduates and graduate students will join faculty and other Rutgers–Camden community members at the Second Annual Fall Convocation for a celebration of new beginnings and the promise of the year ahead. Immediately following the ceremony, enjoy a free culinary road trip from the comfort of the Campus Quad, complete with a DJ, games, and Instagram-worthy photo backdrops.
This is a unique opportunity to come together and recognize the Scarlet Raptor spirit that makes Rutgers–Camden so exceptional. Please join us to celebrate the official start of the new academic year!
See student performances
Hear from your Chancellor
Build connections on campus
Enjoy the food and excitement
Watch this Reel from the 2022 Inaugural Fall Convocation to learn more about what to expect from this event: