Dr. Martin Luther King Jr. Day of Service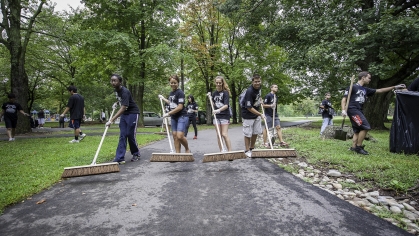 On January 16, 2023, tens of thousands of people across our country will gather to honor the legacy of Dr. Martin Luther King Jr. through acts of service. At Rutgers–Camden, we will be partnering with the city of Camden and the Office of the Mayor for a neighborhood clean-up.
Inside the Cramer Hill Community Center, School of Nursing–Camden faculty and students will hold a health fair designed to educate Camden residents about the health consequences of lead poisoning, air pollution, and other hazards and equip them with tools to advocate for a healthier environment. Children will receive educational activity books with lead-free crayons while adults will receive lead testing kits and a demonstration on how to use them. Attendees will also have access to routine healthcare education and services.