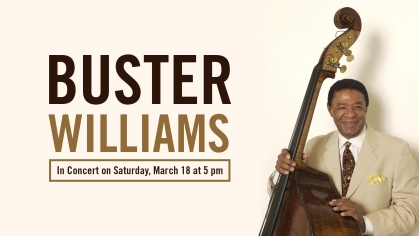 Buster Williams, Camden Native and International Jazz Musician to be honored by Rutgers University–Camden and the IDEA Center for the Arts
The rich life and achievements of Buster Williams, the legendary Grammy nominated jazz bassist will be honored on Saturday, March 18 at 5:00 p.m. at the Rutgers University Gordon Theater. Featuring the Buster Williams Trio, the concert recognizes Mr. Williams contributions to the music industry, and will also be a fundraiser for increased Music Education for Camden youth.
Mr. Williams' big, deep, resilient and inventive playing has made him the bassist of choice throughout the jazz world. He is a prodigious artist with a distinguished career playing with the greats of the music and entertainment worlds including: Betty Carter, Chet Baker, Chick Corea, Dexter Gordon, Branford and Wynton Marsalis, Herbie Hancock, Miles Davis, Sarah Vaughan, Sonny Rollins, Count Basie; and appearances on the Tonight Show with Johnny Carson and Jay Leno, Sesame Street, the Grammy Awards, the Today and Joan Rivers shows.
Cynthia Primas, Executive Director of IDEA, said "It is a privilege to honor this world-famous amazing Camden native and Camden High School graduate." She added. "Buster is the best example of the musical talent that Camden has to offer and we plan to continue his legacy with our new Youth Music Collective."
A graduate of Camden High School, Mr. Williams will be recognized by the City of Camden and IDEA for his contributions to the music world. The concert on Saturday, March 18, at 5:00 p.m. will debut the IDEA Youth Music Collective, a program that provides opportunities for talented high school and college-age musicians to further their experience in America's classical music – JAZZ as well as other traditional music forms.
Tickets $30 are tax deductible and available at https://ideaarts.ticketleap.com/a-night-in-tribute-to-buster-williams