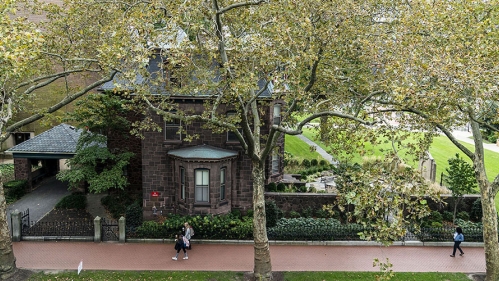 Chancellor's Grant for Staff Development
The Chancellor's Grant for Staff Development is designed to support Rutgers–Camden staff with additional funding for professional development opportunities. These opportunities will result in the enhancement of job performance, skills, and professional knowledge relative to their role at Rutgers–Camden. Staff are encouraged to seek out opportunities that support their growth pertaining to their job, skills, and contributions to Rutgers–Camden.
Examples of professional development opportunities supported by this grant may include:
attendance at conferences
training programs
workshops
certifications
involvement with professional associations
Expenses must be associated with activities related to current job responsibilities and contribute to the mission of the staff member's department and the Rutgers–Camden campus. Expenses not supported by this grant include tuition for collegiate-level courses or dues/subscriptions for professional membership associations. Determination of funding will be based on the applicant pool and the alignment of the applicant's benefits to their professional goals with their position at Rutgers–Camden. Funding is not guaranteed until applicant is in receipt of approval.
Priority Application Considerations:
Practicality of the proposal in relation to available resources (i.e. financial and timeline expectations)
Alignment of how experience will contribute to the ability of the applicant to improve work performance or achieve professional goals in their current role
Extent to which professional development contributes to the mission of the staff member's department
Impact of the staff member's participation in professional development activity as a representative of Rutgers–Camden
First-time recipients
Application:
Submit your application during the open application period.
Eligibility: Any full-time, Class 1 exempt staff members who have completed their probationary period. Any change in employment status prior to start of the activity being funded may impact award reimbursement. Staff who receive a grant in one fiscal year must wait one full fiscal year to reapply for a second grant.
Process: All applications must be submitted and reviewed by the applicant's direct supervisor and department budget manager by the deadlines below. Only completed applications will be considered. Department-wide applications will not be accepted; applicants must submit applications individually.
Review: A committee comprised of representatives from the Chancellor's Office and HR to review applications.
| Application Window | Awards Announced | Grants Expended By |
| --- | --- | --- |
| Coming Soon |   |   |
|   |   |   |
Staff Development Grants can range in award size and may serve as the sole funding source for professional development or be supplemental to a department's professional development budget. Grants are viewed as a contract between the staff member and the University. Any deviation from the proposed use of funds requires committee approval. Requirements for receiving reimbursement for expenses related to the grant will be provided to recipients upon acceptance of award.
Recipients must share knowledge gained with relevant stakeholders within three months of participating in the professional development opportunity as stated within the applicant's submission. This can be done by presenting to departmental colleagues or Administrative Council, acquiring a new professional designation or licensure, announcing the progression of new programming, or other approved methods.