Donna Nickitas
Dean, School of Nursing–Camden
Ph.D., R.N., N.E.A.-B.C., C.N.E., F.N.A.P., F.A.A.N.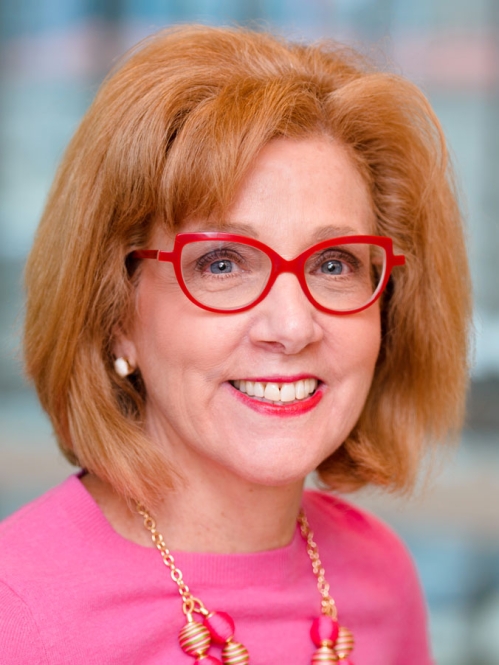 Donna M. Nickitas, an exceptional administrator, a noted health policy scholar, and an energetic visionary regarding the future of health care and nursing education in America, serves as dean of the Rutgers School of Nursing–Camden. Nickitas' long history of advocacy for equitable health care, expertise in academic nursing education, and proven ability to foster a culture of cross-sector engagement ideally positions her to lead the dynamic growth of the School of Nursing–Camden and build on the school's tradition of leadership, scholarship, and service. She believes wholeheartedly that nurses serve society and do public good by advancing health, driving public policy, and promoting access to quality, patient-centered care.
Nickitas assumed the deanship in July 2018 after a distinguished career at the City University of New York's Hunter-Bellevue School of Nursing and The Graduate Center, where she was a professor, the executive officer of the nursing science Ph.D. program, and served previously as the former specialty coordinator of the dual degree in nursing administration/public administration. In these capacities, she played a critical role in growing enrollment and enhancing the national profile of the Hunter-Bellevue School of Nursing.
She is the author, co-author, or co-editor of peer-reviewed books related to the nursing profession such as Public Policy and Politics for Nurses and Other Health Professionals, third edition (2018 Jones and Bartlett) and Reviews & Rationales: Nursing Leadership & Management (2009, Prentice Hall Health). Her scholarship appears as chapters in books such as Fast Facts About the Nursing Profession Historical Perspectives in a Nutshell (2017, Springer Publishing) and Practicing Primary Health Care in Nursing: Caring for Populations, third edition (2017, Jones and Bartlett).
 Nickitas' research consistently appears in peer-reviewed journals that include Nursing Education Perspectives, Research in Gerontological Nursing, and the Journal of Nursing Education. She has received research grant support from agencies such as the Robert Wood Johnson Foundation, the National League for Nursing, Jonas Philanthropies, and Sigma Theta Tau International.
Since 2008, Nickitas has served as the editor of Nursing Economic$, a journal dedicated to advancing nursing leadership and innovation. Her editorials inspire, enlighten, and motivate nurses to produce positive change on issues and trends affecting nursing and health care.
She is a member of premier national honor societies including the Sigma Theta Tau International Honor Society of Nursing; a Fellow of the American Academy of Nursing; a Fellow of the National Academies of Practice; and a Fellow of the New York Academy of Medicine.  She is an invited member of the Hermann Biggs Society and an invited nurse educator for Johnson & Johnson's "Campaign for Nursing Future" webisode series.  Her achievements have been recognized with awards such as the 2017 Josephine Dolan Diamond Jubilee Award for Outstanding Contributions to Nursing Education from the Connecticut Nurses Association and the 2015 Mary Nutting Award for Outstanding Teaching or Leadership in Nursing Education from the National League for Nursing.
A retired major in the U.S. Air Force Nurse Reserve Corps,  Nickitas previously served as assistant director of maternal child health nursing at Bellevue Medical Center in New York and as a staff nurse in the labor and delivery unit at Maimonides Medical Center in Brooklyn.  She earned her Ph.D. from Adelphi University, her master's degree from New York University, and her bachelor's degree from Stony Brook University.
She is a member of numerous professional and civic organizations, serving as treasurer of the Eastern Regional Society of Nursing, vice chair of the nursing section of the New York Academy of Nursing, and a board member of the Saint Edmund Preparatory High School in Brooklyn.