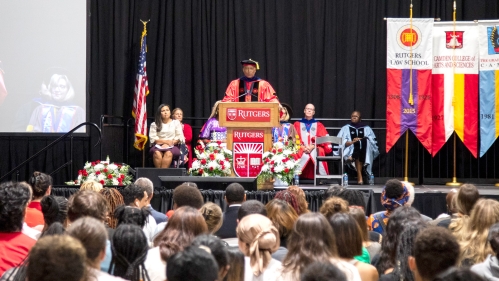 Rutgers—Camden Commencement Speaker Process
Rutgers—Camden commencement ceremonies are celebrations of student accomplishments.  The selection of a commencement speaker is a serious responsibility as this presentation is a capstone moment in the academic career of all students. 
To ensure that all graduates have the opportunity to hear speakers who are inspiring, intelligent and optimistic members of the Rutgers—Camden community are invited to participate in this process.   Students, faculty, staff and alumni are invited to nominate an individual as a potential commencement speaker by filling out this form. Please note, all nominations for Honorary Degrees must be made through the Office of the Secretary and flow from that Office to the Chancellor and a faculty committee chaired by the Provost. 
When nominating a commencement speaker keep these guidelines in mind: Nominees must reflect the academic mission, cultural diversity and international character of Rutgers University.  Additional nominating guidelines for our campus include the following considerations:
Has the nominee contributed to the well-being of our campus, community or society through philanthropy, service or advocacy?

Will the nominee bring visibility to our campus through media coverage?

Is the nominee a Rutgers alumnus?

Would the nominee be willing to participate in complementary events such as a gathering with graduating students and/or alumni or faculty, or participating in public forums hosted by the campus?
Commencement speaker nominations are accepted on a rolling basis.  Nominees not selected to speak within a two-year period are removed from the roster of potential candidates. Nominations for an upcoming commencement will be solicited from December until September for the preceding year.  Example: If you are nominating an individual to speak at a May 2024 commencement ceremony, submit your nomination between December 2023 and September 2024. 
A school-based committee comprised of students, faculty and staff will evaluate all nominations and make recommendations to their dean.  If your nominee is selected, you will be notified by the Commencement Committee.